Browsing all articles tagged with puerto princesa
2011 has been an awesome year for me. It was a year of thrills and great adventure, a year of many firsts. This year I experienced my first out of Luzon trip, first snorkeling, zip lining, rock climbing, spelunking adventures, first time in Solo Backpacking, first time in volunteering and child sponsorship, so forth and so on.
It has been a crazy yet fulfilling year of learning through new experiences, getting out of the bubble that was my comfort zone, meeting lovely new friends along the way, collecting treasured memories and ultimately traveling to those destinations I only dreamed about before. For these reasons I will always be thankful to God for giving me a wonderful 2011.
So before we put an end to this year's chapter, I would like to share with you some of my best travel experiences for this year.
1. Puerto Princesa, Palawan 
Travel Date:  March 11-14, 2011
Jump, jump, jump at Pandan Island, Honda Bay, Palawan
Our family trip to the "Greenest city in the Philippines" last March is one of the highlights of my 2011. It was my first trip in more than two years since I've been entirely pre-occupied by my work & hospital duties and this trip was a form of personal reward for a year of isolation and sleepless nights. Continue reading "2011: Of travel dreams come true" »
Copyright secured by Digiprove © 2012 Joanna Jane Liwag
El Nido is one of those local destinations I've dreamed about since forever. I have heard tons of praises uttered about this quaint little town northeast of Palawan, which only serves to fuel my desire to get there even more. A year ago, luck peeped through our window in the form of a Piso-fare promo (P320 for a round trip ticket) to Puerto Princesa which my sister and I booked in a frenzy. With all the circumstances fitting into the puzzle, me, Jois (my sister) and Jeff (her boyfriend) finally got the chance to experienced El Nido's hype first-hand and I happily got to scratched it out of my bucket list.
Snake Island, El Nido, Palawan | December 5-8, 2011
The Road Trip
It was already 11:20 AM when the plane from Manila to Puerto Princesa took off. Drizzling rain eventually gave way to a thin covering of fog which conceals everything from view. Because of our late flight, we knew that we would have to spend the remaining light hours cruising on a van to El Nido Continue reading "EL NIDO | Prelude to Paradise" »
Copyright secured by Digiprove © 2011 Joanna Jane Liwag
I believe that anyone can conquer fear by doing the things he fears to do.  — Eleanor Roosevelt 
After finishing our lunch and our ala Fear Factor Tamilok-eating challenge, we stayed for 2 more hours at Sabang beach before heading for our mini spelunking and zip line adventure at Ugong Rock.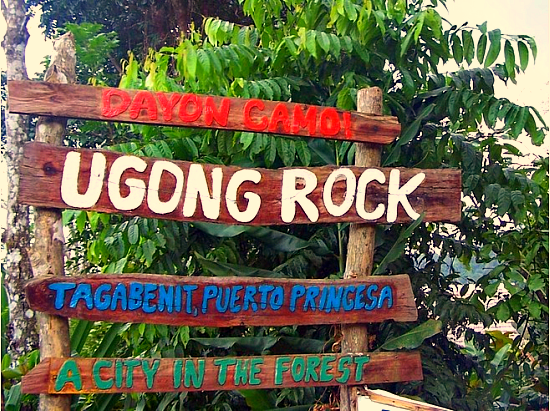 Dayon Camo! (Welcome to Ugong Rock)
Kuya Marco, our tour guide ( #0918.752.8214) told us there was a newly constructed ecotourism zipline facility in the area and asked us if we wanted to try it or not. I never get to zipline before but I was very excited to try it out so being the impulsive person that I am, I immediately strike a deal with Kuya Marco. I then bullied my sister-in-law  Ate Bhing and my brother into taking the plunge with me. Continue reading "PUERTO PRINCESA | Spelunking and Zipline adventure at Ugong Rock" »
Copyright secured by Digiprove © 2011-2012 Joanna Jane Liwag