Browsing all articles tagged with island hopping
Bare. Unspoiled. Beautiful. These are some of the words that popped into mind whenever I think of Jomalig Island.
To tell you the truth, I didn't know this island exists until Melo gave an open-invite to fellow travel bloggers to go with him on his tourism-related trip to this island in the vicinity of Quezon. Being the adventure-seeker that I am, I decided to join the wagon, primarily to see for myself what this island has to offer. And I'm so glad I did because Jomalig Island turned out as an excellent find – a hidden paradise.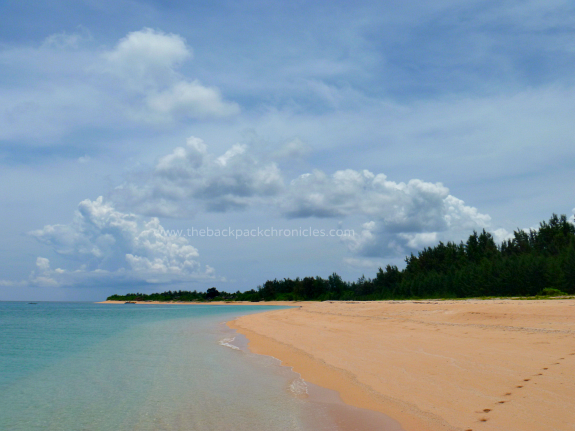 Pristine beach of Salibungot, Jomalig Island
Trivia
Situated 75 nautical miles away from Polilio Island and capped with a population of 7700, Jomalig is an off-the-beaten-path destination which will surely enticed anyone who reached its shore. A former bario of Polilio, its name was interestingly derived from the Filipino word Humalik meaning to kiss. Very romantic, right? – Source: Wikipedia. Continue reading "JOMALIG ISLAND: The hidden treasure of Quezon" »
Copyright secured by Digiprove © 2012 Joanna Jane Liwag
Situated in the northern part of Iloilo, Bulubudiangan also known as Sandbar Island harbors one of the loveliest beaches you would ever find in this iconic province. It has been a favorite getaway spot for locals and tourist alike because of its stunning features: the fine white sand beach, the crystal clear turquoise water, and the picture-perfect surroundings. One could easily spend a day or two in this island just lazily swinging by the hammock, snorkeling in the blue waters, strolling by the beach and enjoying the mesmerizing beauty of nature.
Continue reading "TRAVEL GUIDE | Bulubudiangan Island" »
Copyright secured by Digiprove © 2012 Joanna Jane Liwag
"When anxious, uneasy and bad thoughts come, I go to the sea, and the sea drowns them out with its great wide sounds, cleanses me with its noise, and imposes a rhythm upon everything in me that is bewildered and confused."
– Rainer Maria Rilke
Adele's 'Someone like you' kept playing in my mind like a broken CD as I sat by the battered window seat inside the rickety old bus. Outside the window fluffy white clouds adorned the vast blue sky and hovered over a landscape dominated with greens: trees, shrubs and fields after rolling fields of rice paddies. Lakes and fish ponds could be seen occasionally breaking the monotony of vegetation.
I would've fully enjoyed the scenery if not for our manic driver who was crazily moving in and out of traffic in a way that will make Harry Potter's Knight Bus proud and made me wish I had taken a different bus instead.
After 3-hours of roller coaster ride courtesy of the Ceres bus we finally managed to safely reached the northern town of Sara. I quickly transferred to an equally worn-out jeepney bound for Concepcion, hoping that the vehicle would leave soon so I could still catch the lone public boat going to my destination.  Thankfully it did and by 10:00 AM I was already scrambling on my way towards the pier. I didn't bother going to the tourism office for fear of getting left behind by the boat. Continue reading "ILOILO | Seeking Paradise in Bulubudiangan" »
Copyright secured by Digiprove © 2012 Joanna Jane Liwag