Tweet
Considering the tsunami that left Japan crying for months because of its destructive wake happened not more than 24 hours back then, we were pretty apprehensive if  continuing the Underground River plan would be a good idea or not. Nevertheless, despite the heightened tsunami alerts, the nagging doubts, not to mention Papa's incessant warning not to go, we still insisted on proceeding. Mga pasaway!!! Hahaha. Andun na rin lang eh di ituloy na!
Puerto Princesa Underground River is one of the provisional winners of the New 7 Wonders of the World.
Photo credit to New7Wonders
Facts about Puerto Princesa Underground River
" Puerto Princesa Subterranean River National Park is located about 50 kilometres north of the city centre of Puerto Princesa, Palawan, Philippines. The site contains a full mountain-to-the-sea ecosystem and has some of the most important forests in Asia. It has a limestone karst mountain landscape with an 8.2 kilometer navigable underground river. A distinguishing feature of the river is that it winds through a cave before flowing directly into the South China Sea. It includes major formations of stalactites and stalagmites, and several large chambers.It also represents a habitat for biodiversity conservation. 

It was inscribed by UNESCO as a World Heritage Site on December 4, 1999.    - WIKIPEDIA "
The trip that almost didn't push through.
Because we availed of the package tour being offered by our accommodation (DLM Pensionne), we didn't have to worry about anything; we just need to get our butts to the van and patiently wait for the 2 hours ride to Sabang Port to be done with. The package tour (originally priced as P1500, but we got ours for P1200) already included the round-trip van pick-up, boat service, park entrance fees and a buffet lunch.
We arrived at Sabang Port around 9AM. The sun was already searing hot but we didn't mind. Tourists, both locals and foreign alike, were already flocking around the registration area, waiting for their turn to board. It was obvious that many visitors  were first-timers because you can practically feel the buzz of excitement generating in the air. To pass time I took a gazillion photos of the colorful motorized boats, the waiting tourists, the laid-back beach and of course some vanity shots. LOL!
After waiting for 15 minutes, it's our turn to hopped on our boat. The smaller version of the motorized bangka (boat) that we took has a 6-person capacity while the bigger ones have 12-pax maximum.
The waves were a bit crazy to be ignored. Although we knew for a  fact that the waves can get ugly considering the tsunami alerts, it still didn't sit well that it was tossing us around like pancakes. Our boatmen who somehow sensed our paranoia told us that the waves were merely normal ones and that Palawan never had any tsunami incidents ever, but mom still remain unconvinced.
The boat ride wasn't actually that bad. As a matter-of-fact we were even treated with a stunning view of the mountains and the magnificent limestone rock terrain along the way. It distracted our attentions and eased a lot of my worries. 15 minutes later we reached the safety of the beach.
We immediately proceeded to the Registration booth after taking some obligatory shots at the Park's signage. Many people were already on queue so Ate Bhing and I just stroll around while my mom and brother waited in line.
Some of the interesting things we saw around were colorful flowers  hanging on the branches and the trunks of the trees. They were so beautiful and eye-catching that it's hard not to notice them. I'm a major flower-lover so you can imagine my delight in seeing them.  Some of these flowers, according to the signs beside it, were endemic to Palawan and can only be found in the Park. Several monkeys and monitor lizards were also freely roaming about, seemingly oblivious to the hordes of people visiting the place.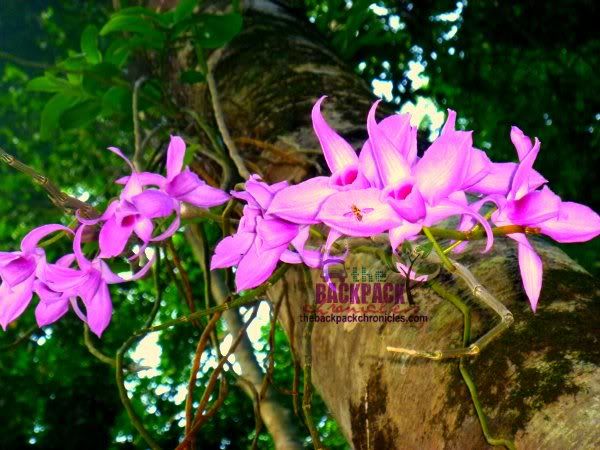 After registering we moved on to the trail and proceeded on the wooden path. Thousands of  trees grew along the way serving as both shades and a fresh source of clean air. I breathed in as much lungful as I can, bearing in mind I wouldn't have any chance at fresh air again once I'm back in Manila.
Almost 15 minutes of walking have passed and we finally reached our destination of the day:  the world-renown Puerto Princesa Underground River.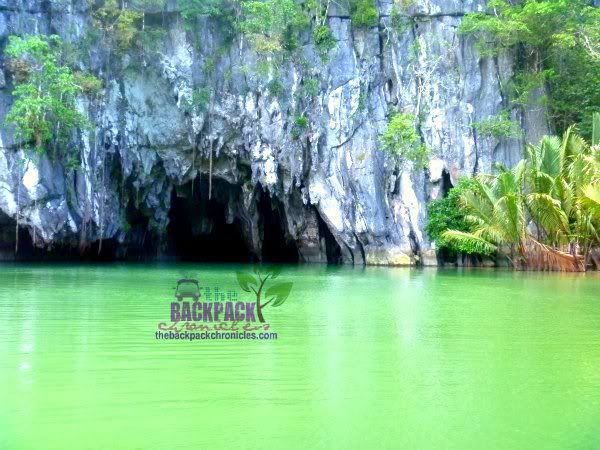 The scene that unveiled before us were so enchanting they look like they were taken straight from a fairy movie. A tranquil river connected to the open sea that runs subtly through the karst mountain via a low cave opening. Green is everywhere with plants growing directly on the river or clinging to the sides of the limestone mountain. Chirping of the birds can be heard intermingled with a hundred other forest sounds.
After donning on our life vests and helmets, our boatman-slash-tour guide beckon us to board a canoe boat. We eagerly hopped on and moments later we were already entering the famous river.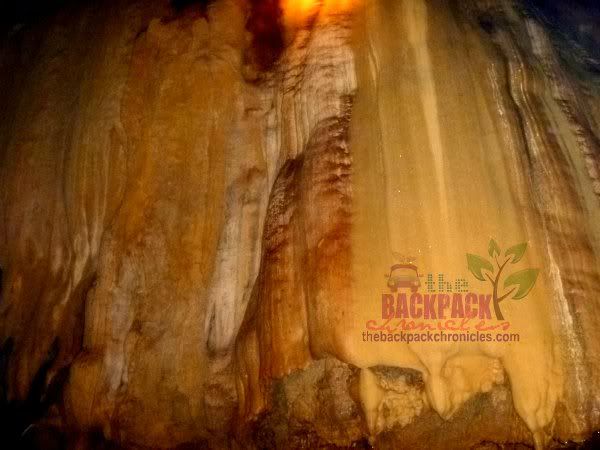 We felt like we entered a different world all together as we slowly made our way inside the cave. Total darkness enveloped us and the only light that guided us was the solitary spotlight we had on tow. Our guide, a funny man who made jokes all throughout the trip, was quick to point out interesting rock formations that suspiciously resembles different kinds of vegetables, fruits and even humans and human events. We saw a lot of these cool stuff that looks like a squash, banana, mushrooms, 3 kings and the Holy Nativity. Really, really amazing.
We saw several insects and animals that lives inside the cave. Thousands of bats clung to the wall sleeping the day away. Our guide was kind enough to remind us not to open our mouths when looking up or we might end up swallowing guano or bat dung. LOL! There were also several birds that flew by and our guide told us they were Balinsasayaw birds, endemic birds whose nests are made from their own saliva. These nests are collected and made into the most expensive soup which is the Balinsasayaw soup otherwise known as the Bird's nest soup. We also saw a small sea snake and a tarantula.
Stalactites and stalagmites, as our guide pointed out, where live stones and were formed by dripping of minerals mainly Calcium carbonate and several others. It took many years for them to form and when they do sometimes they formed interesting shapes.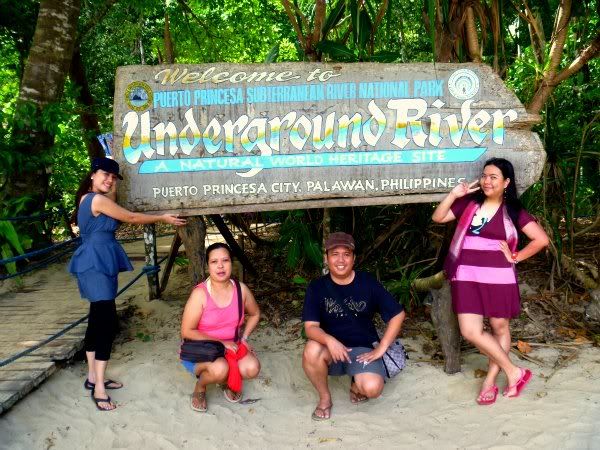 This tour turned out to be the highlight of our whole Puerto Princesa escapade. Because of what we've seen and experienced, we truly believe that the Underground River is really deserving to be one of the New 7 Wonders of the World. It was an amazing work of nature, a product of thousands of years of earth's evolution. It was simply nature at its finest.
If you want to know more about this amazing place, kindly watch the video below.
Copyright secured by Digiprove © 2011 Joanna Jane Liwag
10 Comments to "Puerto Princesa Underground River, a stunning marvel of nature"