Tweet
Bare. Unspoiled. Beautiful. These are some of the words that popped into mind whenever I think of Jomalig Island.
To tell you the truth, I didn't know this island exists until Melo gave an open-invite to fellow travel bloggers to go with him on his tourism-related trip to this island in the vicinity of Quezon. Being the adventure-seeker that I am, I decided to join the wagon, primarily to see for myself what this island has to offer. And I'm so glad I did because Jomalig Island turned out as an excellent find – a hidden paradise.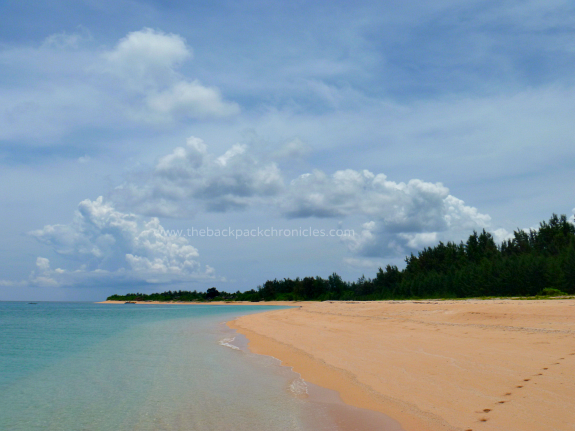 Pristine beach of Salibungot, Jomalig Island
Trivia
Situated 75 nautical miles away from Polilio Island and capped with a population of 7700, Jomalig is an off-the-beaten-path destination which will surely enticed anyone who reached its shore. A former bario of Polilio, its name was interestingly derived from the Filipino word Humalik meaning to kiss. Very romantic, right? – Source: Wikipedia.
Honorable Rodelo Tena, the mayor of the Island Municipality of Jomalig, and his wife graciously hosted us during our entire stay in this beautiful island. They made sure that we were well fed – we even had crabs and lobsters for breakfast! – and the Mayor himself even accompanied us during our island hopping tour! Game na game lang si Mayor! 
To start off our island hopping adventure, we made our way to the breathtaking beach of Salibungot.
Salibungot Beach is one of those virgin beaches where you can spend the day just lazying and bumming around. This cream-colored  sand beach features a very wide shore that is perfect for camping and  azure blue waters ideal for snorkeling, swimming and other water sports. Just like Anawangin and Nagsasa Cove in Zambales, Salibungot beach also harbors hundreds of majestic pine trees.
Twin Isles of Manlanat
We only spent a few minutes at Salibungot Beach before we finally sailed off to our next destination. Maximizing our time was the key since we only had a day to visit all the interesting islands in this vicinity.
Our next stop was the breathtaking rocky islets of Manlanat. The island measures about a 100-feet tall and is a perfect spot for hiking and rock climbing. It is also home to hundreds of endemic birds making it an ideal place for bird watching. A view from the top will give shutter bugs a spectacular vantage point and an interesting back drop. Be careful though of the sea-snakes which are known to reside here.
 Endemic birds are abundant in Manlanat Island.
Dramatic view from the top =)
Hibernating sea snakes. Looks cute but bear in mind that these are poisonous snakes.
Our wonderful host, the Honorable Mayor Rodelo Tena of Jomalig Island, Quezon
The small yet blissful island of Kanaway was our next destination. It has a short beach in front while harboring a partly rocky beach at the back. In here, Kelly and I finally get to soak a little while the boys tried to explore the small cave hidden on the southern part. Snakes also lives on this cave so be extra careful when trying to explore it yourselves.
Melo and Kelly at Kanaway Island.
Me and Kelly enjoying the calm waters of Kanaway Island.
Photo credit to Melo of Out of Town Blog

My cool travel buddies: Kelly, Galvin, Melo and Reimart.
It was already late noon when our boat finally left the tranquil island of Kanaway. A short detour at Sitio Apad was later made where we bought fresh lobsters and a local fish called Surahan which served as our breakfast the next day.
A dozen local children swarmed our boat the moment we landed at Sitio Apad. It was an interesting sight to see so many children doing their stunts on the water, trying to outdo each other doing back flips and dives. We couldn't help but smile as we witness their excitement as they jumped off to the waters, seemingly without a care in the world.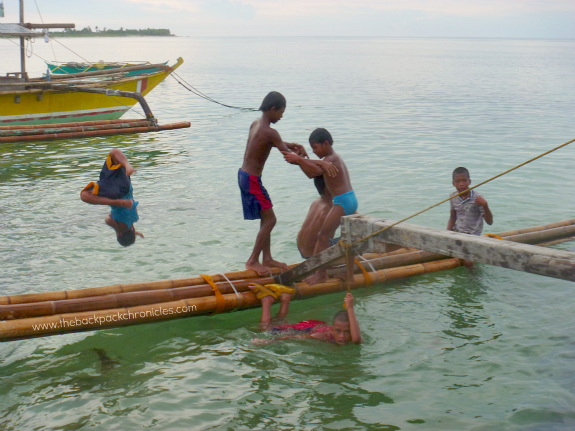 Local children performing their water stunts. :)
Sunset was already showing its glamour by the time we left Sitio Apad. A spectral burst of warm hues kept us fascinated as we went back to the main island. By the time we reached Jomalig, it was already pretty dark.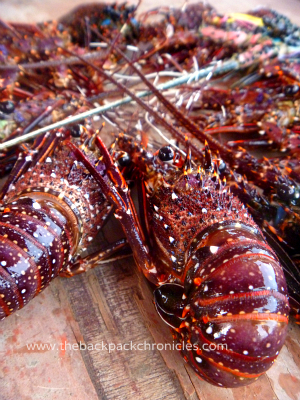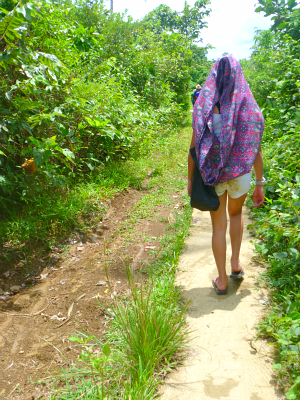 Left: Fresh lobsters from Sitio Apad. Right: Kelly on our way to the mangroves.
We were greeted by a busy morning on our third day. The town was having its annual festivities and everyone at the Mayor's abode was busy preparing for the main event which happened later that night. So to get out of everybody's way, we just decided to visit the mangroves and hit the beach to do some last-minute explorations.
It took us about 30 minutes to reach the mangroves by foot. We passed through picturesque fields and muddy terrains before we can set foot on the 2 hectare – mangrove area. Too bad it was low tide so we were not able to paddle around by boat.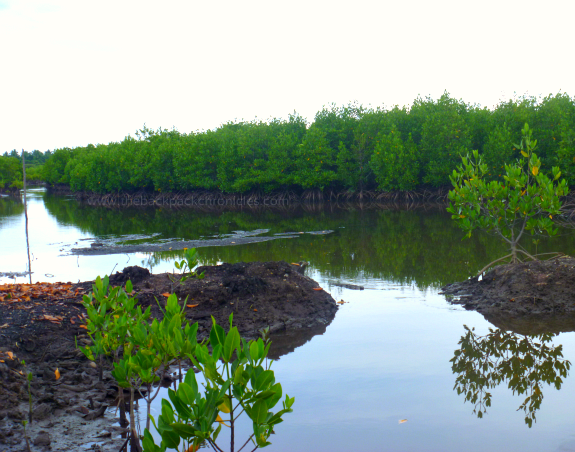 2-hectare mangrove area.
After our short stint at the mangroves, we proceeded on our way to the beach. The sun was already blazing hot by the time we saw the calm waves of Bigwangan. We had to wait in the shade for a couple of hours – we don't want to get roasted! – before we could finally plunge into the serene blue sea.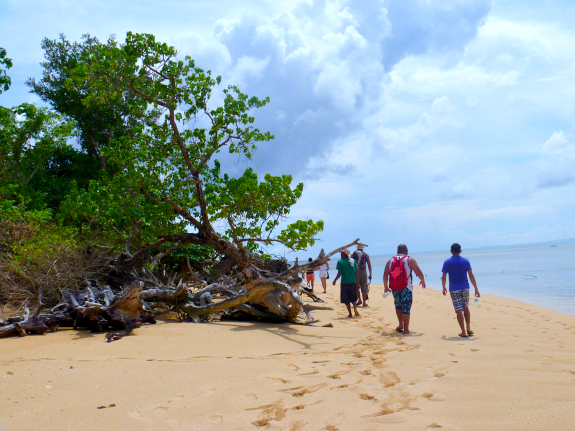 Bigwangan Beach
A couple of beach bumming hours later and we finally bid the beach goodbye. It was time to get ready for the highlight of the evening, the dance competition between the 5 Barangays and the Dance fever that came after.
The night was young and we're ready for more adventure…
---
How to get to Jomalig Island
Manila to Jomalig
+ From Legarda Terminal, catch a Raymond Bus bound for Infanta. They usually have a trip every hour and travel time takes about 4-5 hours.  Get off at Puerto Real Port.
+ From Puerto Real Port, ride a boat bound for Jomalig. Fare ranges from P200 – P350 depending on the type of boat. Travel time takes about 5-6 hours.
Getting around
+ The only way to get around Jomalig is by renting a tricycle or a habal-habal (motorcycle).
+ If you wish to go on an island hopping trip, a small boat would cost around P2,000 while the bigger boat could be rented for P4,000.
Travel Tips
+ Electricity only runs from 6PM – 2AM.
+ Globe and Smart both have signals on the island.
+ The best time to travel is during summer months when the waves are generally calm.
+ You can buy fresh seafood such as crabs, lobsters, surahan, fish and more at Sitio Apad at very low prices.
Accommodations
+ The best way to experience Jomalig is to camp-out at Salibungot Beach or any of the island's stunning beaches. But be sure to ask the Barangay Officials before doing so.
+ Homestays are also being offered as an alternate accommodation.
+ At present, there is only one resort operating in the island, Tejada's Resort. Room rates starts at P300 for rooms with common CR while P500 for private rooms with own bathroom. Contact # 0917-8012769.
Itineray / Things to do
+ Island hopping at Salibungot Beach, Manlanat Island, Kanaway Island and more.
+ Beach bumming and camping at Salibungot beach or any other beaches in Jomalig.
+ Bird watching at Manlanat Island.
+ Rock Climbing at Manlanat Island.
+ Visit the 2-hectare mangrove area and paddle around by boat.
+ Gorge on some fresh seafood while you are here.
Contact Person
+ For inquiries and to know more about travel deals to Jomalig Island, you may contact Ms. Kelly Bautista of Quezon Province Tourism Office at 0922-9491145 or  Mr. Elmer A. Gariguez, the Acting Tourism Officer of Municipal Tourism Office at (042) 795-06-00.
---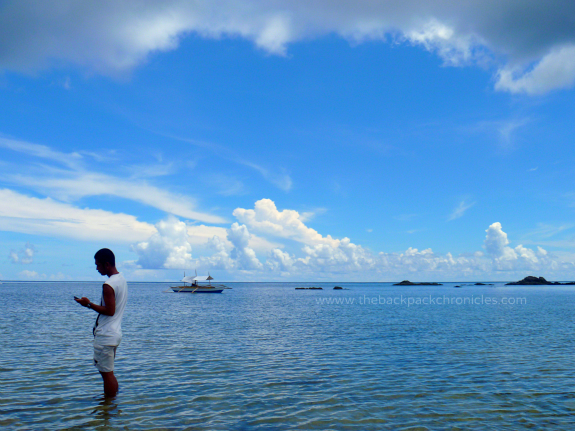 Texting. It's more fun in Jomalig. :D
I would like to take this opportunity to thank Mayor Tena and his wife for graciously adopting us for 3 wonderful days and Kelly Bautista of Quezon Province Tourism for making this trip to Jomalig possible. Finally to the legendary Melo Villareal of Out of town blog para sa pagsabit samin sa kanyang trip. :D
Copyright secured by Digiprove © 2012 Joanna Jane Liwag
43 Comments to "JOMALIG ISLAND: The hidden treasure of Quezon"