Tweet
Pangalusian Island
Right after having a sumptuous lunch at Snake Island, we immediately board the boat  to continue on with our island hopping trip. Snorkeling was the next activity on our jam-pack itinerary and before long we reached the water vicinity of Pangalusian Island, a mere 50 or so yards away from the beach.
Pangalusian Island has one of the widest stretch of powdery white sand beaches in El Nido. It is one of the fave spots for sun bathing and watching the dreamy sunset. Snorkeling is also a major thing to do here because of the coral gardens fronting the beach.
Kuya Roel told us that Pangalusian Island was recently bought by foreigners and public docking here were no longer allowed. Like Lagen and Miniloc, soon there will rise another high-end resort on this part of El Nido. Silhouettes of luxurious cabanas and cottages were already visible and it wouldn't be long until the resort will be complete.
As soon as we reached the snorkeling site, Jeff jumped into the water with only his flippers and goggles on while the rest of us donned our life vests.
The water turned out to be a bit blurry because of the crazy waves but despite the cloudy view it was still fun playing with the fishes. It was fun feeding them and watching how they scurry about catching the left-over rice we threw in their direction.
I wanted to take a lot of pictures of  all the colorful fish  but too bad we needed to save up on batteries. We forgot to charge the previous night and we also forgot that there was an electricity schedule so we end up with only half-full batteries. Sa lahat ng makakalimutan mag-charge pa!! Tsk tsk tsk.
Coral Gardens, Pangalusian Island, El Nido
Secret Lagoon Beach
It was already past 3PM when we reached our sixth destination which was Secret Lagoon Beach. The waves were starting to get a little problematic but thankfully Kuya Roel and Kuya Ger didn't have any difficulty docking.
Secret Lagoon is an interesting island. Separated into two parts by sky scraping limestone cliffs; it has a secluded lagoon hidden on one side while having a gorgeous stretch of  fine, white sand beach on the other. Clusters of coconut trees and other tropical plants can also be found lining the perimeters of the beach.
In order to get yourself inside the secret lagoon, one has to crawl via a small opening. Be careful though because the rocks are pretty sharp and there's also a chance that you will get stranded once the tide become high.
Inside the Secret Lagoon (L-R) Kuya Gerard, Ate Marisol, Me, Jois and Jeff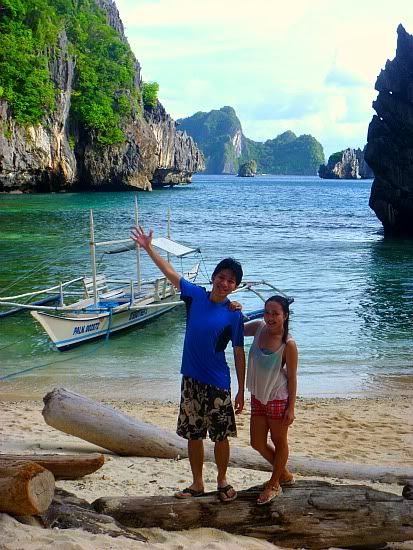 Although we only spent a short time in this fabulous paradise, we still had an amazing time exploring the lagoon, taking crazy shots and chilling at the beach.
The island was so serene and tranquil that it was so easy to lose oneself in thought here. Everything was just so relaxing and fresh. The marvelous union of the sky and the sea, the stunning limestone back drops, the calming serenade of the waves were so fascinating that it made me wish we could stay in this island paradise longer.
But as everything must come to an end, we finally dragged ourselves off the island and moved on.
—————————————
EL NIDO ESCAPADES. Dec 5-8, 2011. This is a series of articles featuring our escapades on El Nido: the island hopping tours, the food trips, the trekkings and everything that we experienced in this enchanting paradise called El Nido.
+ PART 1:     Prelude to Paradise
+ PART 2:     Pinagbuyutan Island and Cathedral Cave
+ PART 3:     Cudugnon Point and Snake Island
+ PART 4:     Pangalusian Island and Secret Lagoon
+ PART 5:     Big Lagoon and Small Lagoon
+ PART 6:     Shimizu Island and 7 Commando
+ PART 7:     Acoustic charm of Balay Tubay
+ PART 8:     Trekking to Nagkalit-kalit waterfalls
+ PART 9:     Finding solitude in Napsan Beach
+ PART 10:   Art Cafe
Copyright secured by Digiprove © 2012 Joanna Jane Liwag
19 Comments to "EL NIDO | Pangalusian Island and Secret Lagoon Beach"