Tweet
" To the dull mind nature is leaden;
To the illumined mind the whole world burns and sparkles with light. "
—Ralph Waldo Emerson
This is the second installment for our El Nido Island hopping tour series.
After featuring Pinagbuyutan Island and Pinasil Island a.k.a Cathedral Cave in my earlier post, this time I will be sharing our experiences in the next two places we visited which was Cudugnon Cave and Vigan Island / Snake Island.
Cudugnon Point
Our third stop was yet another cave but unlike the first one we actually manage to explore it this time. Because there were 3 boats docked on the island when we arrived we had to wait in the shade for 10 minutes to give way for other tourists to explore the cave first.
When our turn came, we only had to walked a few steps away from the beach before we get to the little hole that was the cave's entrance. The opening proved to be a bit of a challenge for us. A little bending, docking and crawling passed by  until we found ourselves safely inside the confines of the cave. A large, magnificent cavern with an elevated ceiling greeted us and made our eyes widen in awe.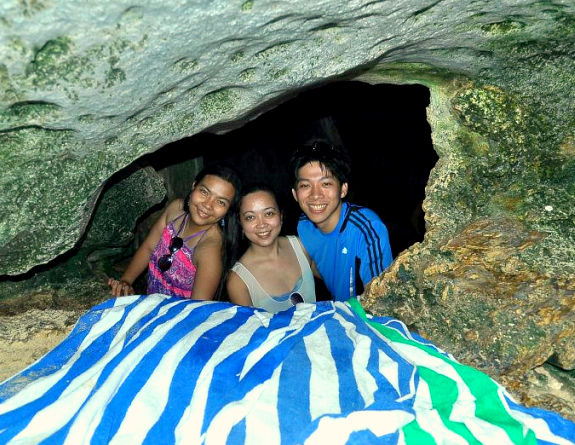 Cudugnon Point is both considered a tourist spot and an important anthropological site. Neolithic items such as jewelry and potteries were found hidden on its numerous crevices as well as an ancient burial ground that dates back to 1200 B.C. Unfortunately, looters and thieves took most of the valuable artifacts leaving only a few bones. Some of this artifacts were later found, recovered and finally transferred to National Museum where it remains to this day.
Since the cave was a bit small for an extensive spelunking activity we just made the most of our time taking photos of the cave and ourselves. Kuya Ger urged the boys to climb to a higher point and before long Jeff and Kuya Gerard were standing atop some precariously looking rocks. I wanted to go with them (my previous rock climbing experience in Matukad Island in Caramoan left me craving for more) but unfortunately my pink and purple long beach choice of a dress refrain me from doing so. Not a very good fashion choice for a climb! Tsk tsk.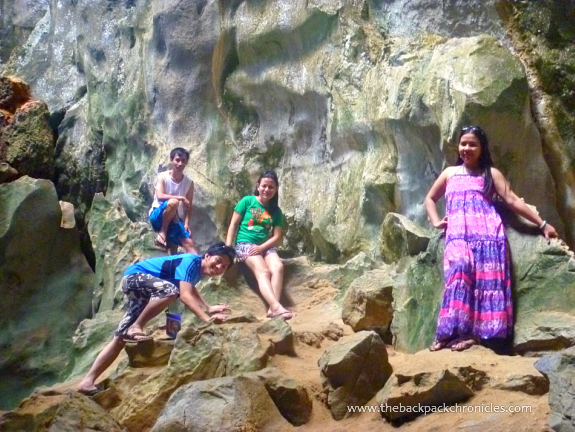 Kuya Ger was a treasure trove of trivia; he kept hurling interesting random bits of information about the places were on. According to him Cudugnon Cave was used by the locals as hiding place when the Japanese came to conquer the land. It was also used as a quarantine area by the sick during earlier years to prevent the disease from spreading out to other people.
Vigan Island a.k.a Snake Island
Photo credit to Zartacross
Our fourth stop, which was Vigan Island, is considered by many as one of the most beautiful islands in El Nido. A curving stretch of sand bar lay beautifully between two parallel islands hence the nickname "Snake Island". The winding sandpit is clearly visible only during low tides and on its sides were shallow swimming areas where even children can swim out and play.
Having been to several wonderful beaches and islands around the Philippines, I can say that Snake Island was one of the best islands I've been to. The sand bars was so beautiful and mind-boggling that I even suspected that it was man-made and not naturally formed. Nature indeed is an incredibly mysterious thing.
"Human subtlety will never devise an invention more beautiful,
more simple or more direct than does Nature,
because in her inventions, nothing is lacking and nothing is superfluous."
— Leonardo da Vinci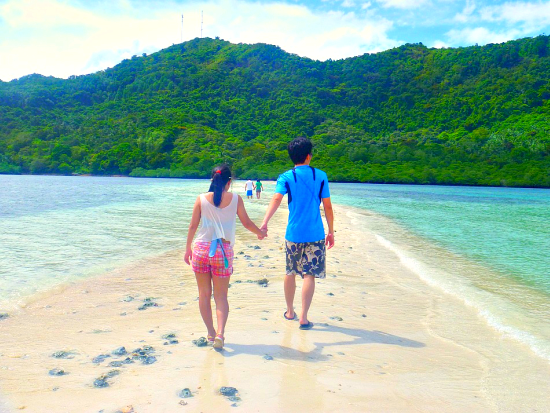 Lover's Lane ba ito?!?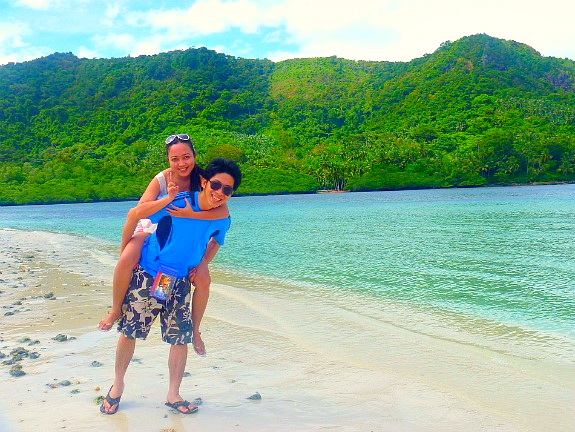 Jepois at Snake Island
We spent a very sumptuous lunch on this island paradise. Our bangkeros  Kuya Roel and Kuya Ger did a very good job on the cooking and food preparation while the rest of us decided to trek to the viewing deck on top of the island.
Our yummy lunch: Grilled liempo, Sweet Mangoes, Grilled fish, Chicken BBQ, and Cucumber Salad.

We trekked for about 10 minutes before we reached the solitary hut that doubles as a viewing deck. With nothing to obstruct our view, we were treated with an exhilarating 360 degree panoramic vista of Vigan Island and the surrounding islands dotting the horizon.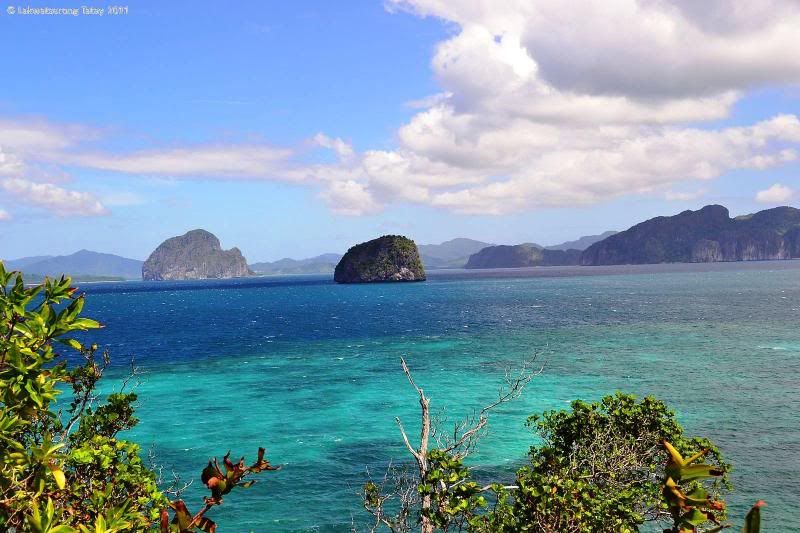 Amazing view from Snake Island's viewing deck. Photo credit to Lakwatserong Tatay.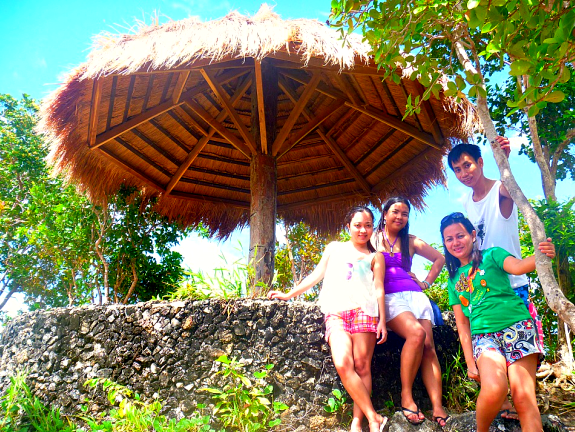 From left to right: Jois, me, Ate Sol and Kuya Gerard.
We had a great time trading stories with our 2 new travel buddies Ate Sol and Kuya Gerard while hungrily devouring the delectable lunch served before us. I don't know if it was merely a coincidence or simply fate that brought us all together but we found out that we all have something in common. It turned out that we have the same province which is Cabanatuan, Nueva Ecija and like Jois and Jeff they are both pharmacists as well. Coincidence or not?
The lunch was already included in the P800 package tour we luckily availed of and I must say that it was very tasty and succulent. Great job to Kuya Roel and Kuya Gerard.
After taking our lunch we took more candid shots of the place and some photo shoots before finally bidding adios to this lovely paradise called Snake Island.
—————————————
EL NIDO ESCAPADES. Dec 5-8, 2011. This is a series of articles featuring our escapades on El Nido: the island hopping tours, the food trips, the trekkings and everything that we experienced in this enchanting paradise called El Nido.
+ PART 1:     Prelude to Paradise
+ PART 2:     Pinagbuyutan Island and Cathedral Cave
+ PART 3:     Cudugnon Point and Snake Island
+ PART 4:     Pangalusian Island and Secret Lagoon
+ PART 5:     Big Lagoon and Small Lagoon
+ PART 6:     Shimizu Island and 7 Commando
+ PART 7:     Acoustic charm of Balay Tubay
+ PART 8:     Trekking to Nagkalit-kalit waterfalls
+ PART 9:     Finding solitude in Napsan Beach
+ PART 10:   Art Cafe
Copyright secured by Digiprove © 2011 Joanna Jane Liwag
15 Comments to "EL NIDO | Cudugnon Cave and Snake Island"