Browsing all articles in Travel Guide
Bare. Unspoiled. Beautiful. These are some of the words that popped into mind whenever I think of Jomalig Island.
To tell you the truth, I didn't know this island exists until Melo gave an open-invite to fellow travel bloggers to go with him on his tourism-related trip to this island in the vicinity of Quezon. Being the adventure-seeker that I am, I decided to join the wagon, primarily to see for myself what this island has to offer. And I'm so glad I did because Jomalig Island turned out as an excellent find – a hidden paradise.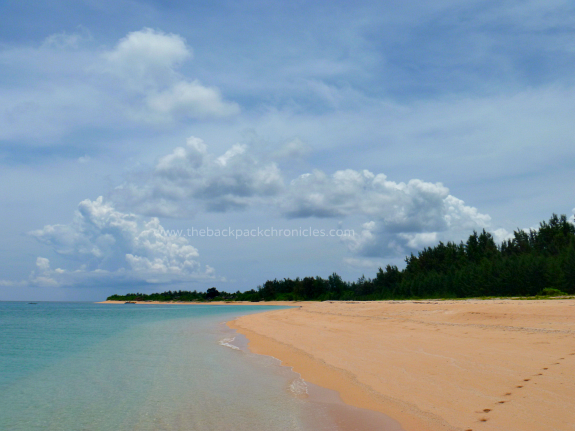 Pristine beach of Salibungot, Jomalig Island
Trivia
Situated 75 nautical miles away from Polilio Island and capped with a population of 7700, Jomalig is an off-the-beaten-path destination which will surely enticed anyone who reached its shore. A former bario of Polilio, its name was interestingly derived from the Filipino word Humalik meaning to kiss. Very romantic, right? – Source: Wikipedia. Continue reading "JOMALIG ISLAND: The hidden treasure of Quezon" »
Copyright secured by Digiprove © 2012 Joanna Jane Liwag
Situated in the northern part of Iloilo, Bulubudiangan also known as Sandbar Island harbors one of the loveliest beaches you would ever find in this iconic province. It has been a favorite getaway spot for locals and tourist alike because of its stunning features: the fine white sand beach, the crystal clear turquoise water, and the picture-perfect surroundings. One could easily spend a day or two in this island just lazily swinging by the hammock, snorkeling in the blue waters, strolling by the beach and enjoying the mesmerizing beauty of nature.
Continue reading "TRAVEL GUIDE | Bulubudiangan Island" »
Copyright secured by Digiprove © 2012 Joanna Jane Liwag
Anawangin and Nagsasa Cove in San Antonio, Zambales are some of the favorite weekend getaway spots for those wanting to temporarily escape from the toxicity of Metro Manila. Situated just a few hours away from the bustling metro, these beautiful coves which are formed through the mighty eruption of Mount Pinatubo, offer scenic landscapes where the land, sky and sea meet.
So if your idea of a weekend getaway is to spend it chilling by the beach on a hammock or lying in the sand and staring up at the sky at night, then heading to Anawangin or Nagsasa Cove will be the perfect respite. Continue reading "TRAVEL GUIDE | Anawangin and Nagsasa Cove" »
Copyright secured by Digiprove © 2012 Joanna Jane Liwag