Browsing all articles in Jomalig Island
"We are all in the gutter, but some of us are looking at the stars."
― Oscar Wilde, Lady Windermere's Fan
Despite the scarcity of moolah I experienced throughout the year, I somehow managed to scraped off some travel funds and get my butt across 13+ destinations, both locally and abroad.
So before a new calendar goes up the wall – unless the world comes to a stand still today thanks to the prediction of the Mayans – I would like to take this chance to reminisce and look back to those crazy times I had on the road.
Anawangin / Nagsasa / Capones, Zambales
January  2012 
PTB Bagets at Anawangin Cove, Zambales. Photo credit to Ian of Brownmantrips.com
This spontaneous trip to Zambales paved the way for all my wandering adventures in 2012. Out of nowhere, I ended up joining the birthday trip of a co-blogger named Ivan where I also met other adventurous souls like Elal, Chino, Byron, Ian, Cai and JL.
Together, we traversed Mount Pundaquit in the middle of the scorching heat of the afternoon sun (believe me when I say I almost died on that trek!), scared ourselves senseless during a kwentuhan-slash-takutan session in Nagsasa Cove, marveled at the night sky veiled with thousands of twinkling stars and bathe in the rough waters of Capones to reach the rustic Faro Punta de Capones. Needless to say, it was an unforgettable trip made even more remarkable by new-found friends. Continue reading "2012: A year of Perpetual Summer" »
Copyright secured by Digiprove © 2012 Joanna Jane Liwag
Bare. Unspoiled. Beautiful. These are some of the words that popped into mind whenever I think of Jomalig Island.
To tell you the truth, I didn't know this island exists until Melo gave an open-invite to fellow travel bloggers to go with him on his tourism-related trip to this island in the vicinity of Quezon. Being the adventure-seeker that I am, I decided to join the wagon, primarily to see for myself what this island has to offer. And I'm so glad I did because Jomalig Island turned out as an excellent find – a hidden paradise.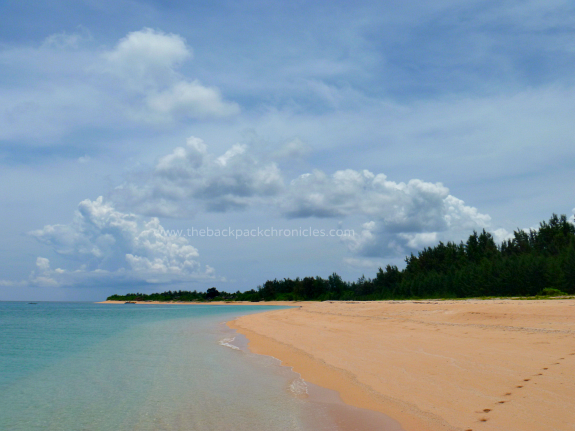 Pristine beach of Salibungot, Jomalig Island
Trivia
Situated 75 nautical miles away from Polilio Island and capped with a population of 7700, Jomalig is an off-the-beaten-path destination which will surely enticed anyone who reached its shore. A former bario of Polilio, its name was interestingly derived from the Filipino word Humalik meaning to kiss. Very romantic, right? – Source: Wikipedia. Continue reading "JOMALIG ISLAND: The hidden treasure of Quezon" »
Copyright secured by Digiprove © 2012 Joanna Jane Liwag