Browsing all articles in Puerto Princesa
2011 has been an awesome year for me. It was a year of thrills and great adventure, a year of many firsts. This year I experienced my first out of Luzon trip, first snorkeling, zip lining, rock climbing, spelunking adventures, first time in Solo Backpacking, first time in volunteering and child sponsorship, so forth and so on.
It has been a crazy yet fulfilling year of learning through new experiences, getting out of the bubble that was my comfort zone, meeting lovely new friends along the way, collecting treasured memories and ultimately traveling to those destinations I only dreamed about before. For these reasons I will always be thankful to God for giving me a wonderful 2011.
So before we put an end to this year's chapter, I would like to share with you some of my best travel experiences for this year.
1. Puerto Princesa, Palawan 
Travel Date:  March 11-14, 2011
Jump, jump, jump at Pandan Island, Honda Bay, Palawan
Our family trip to the "Greenest city in the Philippines" last March is one of the highlights of my 2011. It was my first trip in more than two years since I've been entirely pre-occupied by my work & hospital duties and this trip was a form of personal reward for a year of isolation and sleepless nights. Continue reading "2011: Of travel dreams come true" »
Copyright secured by Digiprove © 2012 Joanna Jane Liwag
I believe that anyone can conquer fear by doing the things he fears to do.  — Eleanor Roosevelt 
After finishing our lunch and our ala Fear Factor Tamilok-eating challenge, we stayed for 2 more hours at Sabang beach before heading for our mini spelunking and zip line adventure at Ugong Rock.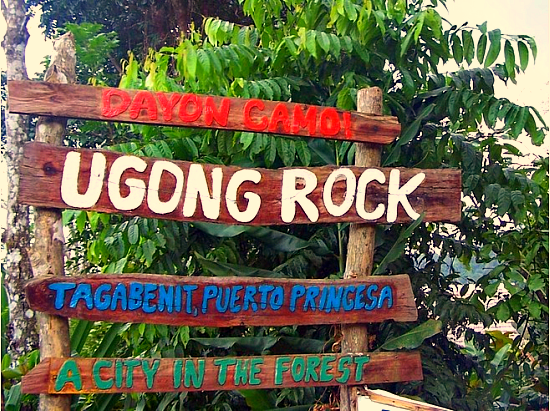 Dayon Camo! (Welcome to Ugong Rock)
Kuya Marco, our tour guide ( #0918.752.8214) told us there was a newly constructed ecotourism zipline facility in the area and asked us if we wanted to try it or not. I never get to zipline before but I was very excited to try it out so being the impulsive person that I am, I immediately strike a deal with Kuya Marco. I then bullied my sister-in-law  Ate Bhing and my brother into taking the plunge with me. Continue reading "PUERTO PRINCESA | Spelunking and Zipline adventure at Ugong Rock" »
Copyright secured by Digiprove © 2011-2012 Joanna Jane Liwag
"If you reject the food, ignore the customs,  fear the religion and avoid the people,
you might better stay home. " ~James Michener
Even before we went to Puerto Princesa last March, I was already curious about their exotic delicacy called Tamilok. Actually a mollusk that looks like a worm, they are commonly found in mangroves and are famous among locals  as pulutan.
Before, just the thought of having to eat anything that resembles a worm was enough to make me cringe. Being a medical technologist and having to study them (and the diseases they caused) during our Parasitology classes made me develop an instant aversion for all things worm-related. So when I stumbled on some blogs during my pre-travel research and read about Tamilok and how Palawenos really love them, I became very intrigue.
Somehow traveling and experiencing different cultures tends to change a lot of perspectives and among those are my opinion of this exotic foods.
Facts vs. myths
" Shipworms (a.k.a Tamilok) are not worms at all, but rather a group of unusual saltwater clams with very small shells, notorious for boring into (and eventually destroying) wooden structures that are immerse in sea water, such as piers, docks and wooden ships. They are sometimes called "termites of the sea".   – WIKIPEDIA Continue reading "Exotic Fare: Kinilaw na Tamilok" »
Copyright secured by Digiprove © 2011 Joanna Jane Liwag