Browsing all articles in The Venetian Hotel
Since Macau is just an hour's jetty boat ride away from Hong Kong, most tourists visiting HK allot a day in their schedule to squeeze in a quick escapade to this country. For those wanting to do the same, here's our 1-day itinerary that will help you in planning your own trip.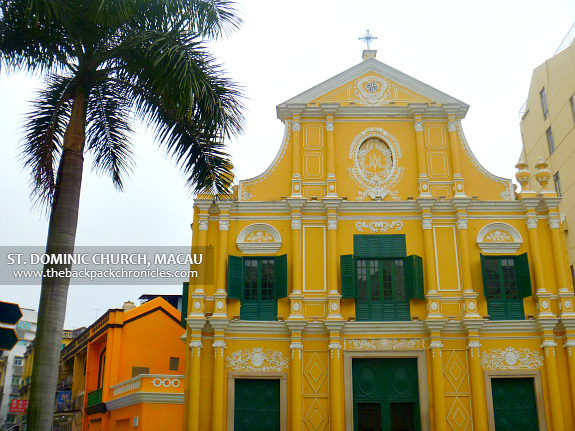 St. Dominic Church, Senado Square, Macau
Bits of Trivia:
Macau, who have been under the influence of the Portuguese for more than 4 1/2 decade and currently under the sovereignty of People's Republic of China,  is a country rich in history with a very diverse culture. Remnants of the Portuguese rule can be spotted all over the place through old churches, government buildings and iconic landmarks exhibiting western designs and architecture. Many of these played significant role in Macau's glorious past and was declared as UNESCO World Heritage Sites. Continue reading "1-Day Macau Itinerary" »
Copyright secured by Digiprove © 2013 Joanna Jane Liwag
The Venetian Hotel icon
Since we only had a day to traipse around Macau, everyone agreed to wake up early to maximize our itinerary and cover as much ground as we can. By 8:30 AM, we were already hitting the busy streets of Mongkok. Thankfully, the weather also cooperated this time and we were blessed with a cold but generally dry morning.
We decided to grab a quick breakfast at Cafe de Coral (Hong Kong's version of fast food) before heading on our way. The line was   long when we arrived but since the efficiency of the staff can be compared to that of a robot factory, we only had to wait for about 5 minutes before we got our food. Cool! Continue reading "MACAU | The Venetian Hotel" »
Copyright secured by Digiprove © 2012 Joanna Jane Liwag