Browsing all articles in Hong Kong
They say that a Hong Kong escapade wouldn't be complete without a trip to one of its fancy theme parks. And so, like many gullible tourists who walked before us, we spend our Day 3 getting personal with the cuddly giant pandas inside Ocean Park.
Bucket list #31. See a giant panda in person = check! Continue reading "HONG KONG | A date with Giant Pandas at Ocean Park" »
Copyright secured by Digiprove © 2013 Joanna Jane Liwag
"We are all in the gutter, but some of us are looking at the stars."
― Oscar Wilde, Lady Windermere's Fan
Despite the scarcity of moolah I experienced throughout the year, I somehow managed to scraped off some travel funds and get my butt across 13+ destinations, both locally and abroad.
So before a new calendar goes up the wall – unless the world comes to a stand still today thanks to the prediction of the Mayans – I would like to take this chance to reminisce and look back to those crazy times I had on the road.
Anawangin / Nagsasa / Capones, Zambales
January  2012 
PTB Bagets at Anawangin Cove, Zambales. Photo credit to Ian of Brownmantrips.com
This spontaneous trip to Zambales paved the way for all my wandering adventures in 2012. Out of nowhere, I ended up joining the birthday trip of a co-blogger named Ivan where I also met other adventurous souls like Elal, Chino, Byron, Ian, Cai and JL.
Together, we traversed Mount Pundaquit in the middle of the scorching heat of the afternoon sun (believe me when I say I almost died on that trek!), scared ourselves senseless during a kwentuhan-slash-takutan session in Nagsasa Cove, marveled at the night sky veiled with thousands of twinkling stars and bathe in the rough waters of Capones to reach the rustic Faro Punta de Capones. Needless to say, it was an unforgettable trip made even more remarkable by new-found friends. Continue reading "2012: A year of Perpetual Summer" »
Copyright secured by Digiprove © 2012 Joanna Jane Liwag
"Beware my children of the three black crows;
the doctor, the lawyer and the priest"
- Madame Tussaud (Anna Marie Grosholtz)
Rubbing elbows with celebrity replicas at Madam Tussaud's became a surprising highlight to our foggy Victoria Peak adventure. Considering I was not a fan of waxes – I find dolls a bit scary thanks to the memories of Chuckie the murderous doll, and my somehow screwed brain suspects a filial connection between the two – our 2 hours jaunt at the famous Wax Museum, still left us starstruck and grinning like the Cheshire cat.
It was pretty crowded when we got to the site. A lot of tourist were taking pictures with Bruce Lee at the entrance, like there was no tomorrow and we had to squeeze our way  to the counter just to have our tickets validated. After that it became a hazy, shutter frenzy-filled two hours.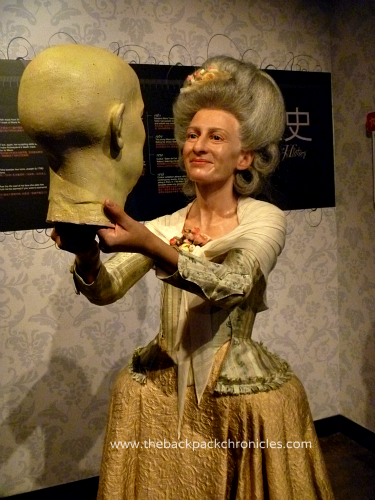 Anna Marie Grosholtz a.k.a. Madam Tussaud,
Artist and Founder of the Wax Museum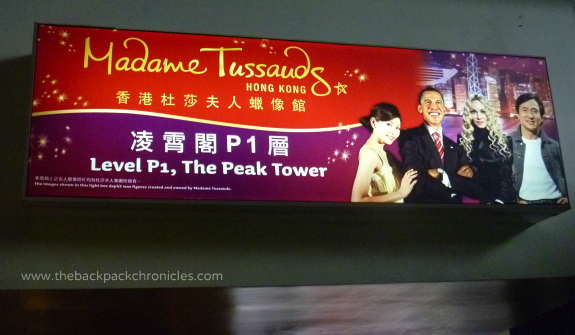 Madam Tussauds Wax Museum is located at Level P1, The Peak Tower, Central District, Hong Kong
The museum which opens in 2000, houses nearly 100 wax sculptures of world-renown personalities and celebrities and are featured in 5 different themes namely: The World Premiere, Hong Kong Glamour, Historical and National Heroes, The Champions and Music Icons. Continue reading "HONG KONG | Madam Tussaud's Wax Museum" »