Browsing all articles in World Heritage Sites
Overcrowded Largo de Senado
A faint smell of spicy beef wafted through the air as we dodged our way through the tourist infested area of Largo de Senado. It was a chilly Friday afternoon but even through the cold weather tourists and locals alike still flocked to the streets like there was no tomorrow.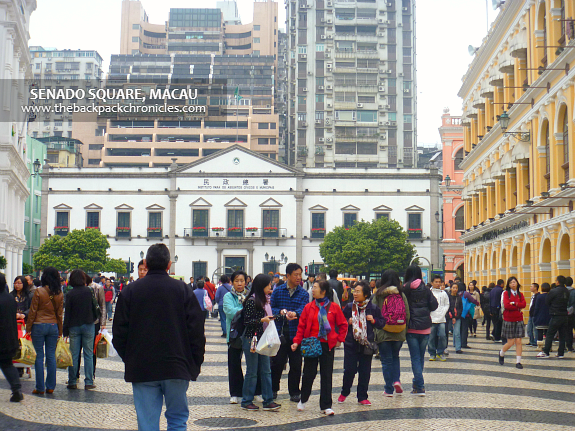 Tourist, tourist and more tourist at Senado Square, Macau
Largo de Senado, otherwise known as Senado Square, is considered as one of the most popular historical sites in Macau. Situated at the heart of  Macau Peninsula, this UNESCO World Heritage Site was the seat of power for the Portuguese as they ruled over the country for more than a hundred years.
Like most countries that had been under colonial rule, the Macanese graciously embraced Portuguese influences while retaining their own unique local customs. The result is a fusion of two beautiful cultures which are evident in the number of scattered iconic buildings and landmarks throughout the square. Continue reading "MACAU | The historic Largo de Senado and the iconic St. Paul Ruins" »
Copyright secured by Digiprove © 2012 Joanna Jane Liwag
Holy Week is past approaching and you might be puzzling about how you're going to spend those precious  days off from work. If you're a beach bum, an adventure seeker or just a simple soul wanting to escape the toxicity of the metro, then going to Iloilo and Guimaras might be the perfect choice to fritter your weekend away.
Here's a 3 Days / 2 Nights itinerary that will give you an overview about the places to visit, things to do, where to eat and where to buy pasalubongs  in Iloilo and Guimaras. Continue reading "ILOILO – GUIMARAS 3D/2N Itinerary" »
Copyright secured by Digiprove © 2012 Joanna Jane Liwag
Considering the tsunami that left Japan crying for months because of its destructive wake happened not more than 24 hours back then, we were pretty apprehensive if  continuing the Underground River plan would be a good idea or not. Nevertheless, despite the heightened tsunami alerts, the nagging doubts, not to mention Papa's incessant warning not to go, we still insisted on proceeding. Mga pasaway!!! Hahaha. Andun na rin lang eh di ituloy na!
Puerto Princesa Underground River is one of the provisional winners of the New 7 Wonders of the World.
Photo credit to New7Wonders
Facts about Puerto Princesa Underground River
" Puerto Princesa Subterranean River National Park is located about 50 kilometres north of the city centre of Puerto Princesa, Palawan, Philippines. The site contains a full mountain-to-the-sea ecosystem and has some of the most important forests in Asia. It has a limestone karst mountain landscape with an 8.2 kilometer navigable underground river. A distinguishing feature of the river is that it winds through a cave before flowing directly into the South China Sea. It includes major formations of stalactites and stalagmites, and several large chambers.It also represents a habitat for biodiversity conservation. 

It was inscribed by UNESCO as a World Heritage Site on December 4, 1999.    - WIKIPEDIA " Continue reading "Puerto Princesa Underground River, a stunning marvel of nature" »
Copyright secured by Digiprove © 2011 Joanna Jane Liwag