Browsing all articles in Itineraries
Since Macau is just an hour's jetty boat ride away from Hong Kong, most tourists visiting HK allot a day in their schedule to squeeze in a quick escapade to this country. For those wanting to do the same, here's our 1-day itinerary that will help you in planning your own trip.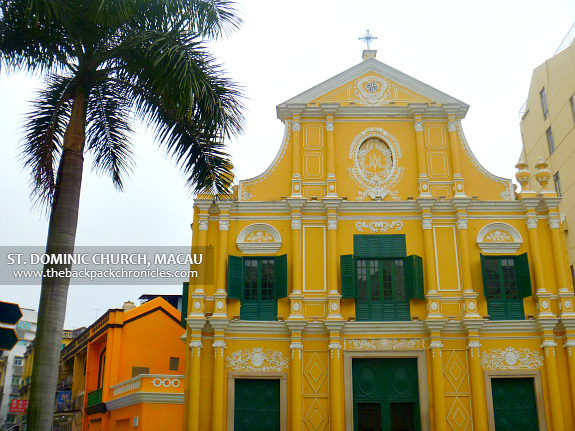 St. Dominic Church, Senado Square, Macau
Bits of Trivia:
Macau, who have been under the influence of the Portuguese for more than 4 1/2 decade and currently under the sovereignty of People's Republic of China,  is a country rich in history with a very diverse culture. Remnants of the Portuguese rule can be spotted all over the place through old churches, government buildings and iconic landmarks exhibiting western designs and architecture. Many of these played significant role in Macau's glorious past and was declared as UNESCO World Heritage Sites. Continue reading "1-Day Macau Itinerary" »
Copyright secured by Digiprove © 2013 Joanna Jane Liwag
Holy Week is past approaching and you might be puzzling about how you're going to spend those precious  days off from work. If you're a beach bum, an adventure seeker or just a simple soul wanting to escape the toxicity of the metro, then going to Iloilo and Guimaras might be the perfect choice to fritter your weekend away.
Here's a 3 Days / 2 Nights itinerary that will give you an overview about the places to visit, things to do, where to eat and where to buy pasalubongs  in Iloilo and Guimaras. Continue reading "ILOILO – GUIMARAS 3D/2N Itinerary" »
Copyright secured by Digiprove © 2012 Joanna Jane Liwag
Anawangin and Nagsasa Cove in San Antonio, Zambales are some of the favorite weekend getaway spots for those wanting to temporarily escape from the toxicity of Metro Manila. Situated just a few hours away from the bustling metro, these beautiful coves which are formed through the mighty eruption of Mount Pinatubo, offer scenic landscapes where the land, sky and sea meet.
So if your idea of a weekend getaway is to spend it chilling by the beach on a hammock or lying in the sand and staring up at the sky at night, then heading to Anawangin or Nagsasa Cove will be the perfect respite. Continue reading "TRAVEL GUIDE | Anawangin and Nagsasa Cove" »
Copyright secured by Digiprove © 2012 Joanna Jane Liwag