Browsing all articles in Island Hopping
Bare. Unspoiled. Beautiful. These are some of the words that popped into mind whenever I think of Jomalig Island.
To tell you the truth, I didn't know this island exists until Melo gave an open-invite to fellow travel bloggers to go with him on his tourism-related trip to this island in the vicinity of Quezon. Being the adventure-seeker that I am, I decided to join the wagon, primarily to see for myself what this island has to offer. And I'm so glad I did because Jomalig Island turned out as an excellent find – a hidden paradise.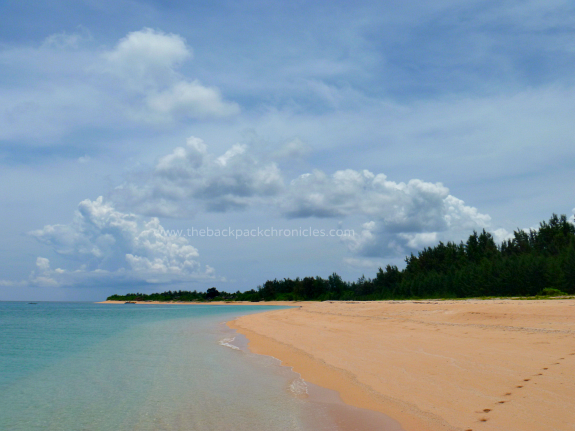 Pristine beach of Salibungot, Jomalig Island
Trivia
Situated 75 nautical miles away from Polilio Island and capped with a population of 7700, Jomalig is an off-the-beaten-path destination which will surely enticed anyone who reached its shore. A former bario of Polilio, its name was interestingly derived from the Filipino word Humalik meaning to kiss. Very romantic, right? – Source: Wikipedia. Continue reading "JOMALIG ISLAND: The hidden treasure of Quezon" »
Copyright secured by Digiprove © 2012 Joanna Jane Liwag
Pangalusian Island
Right after having a sumptuous lunch at Snake Island, we immediately board the boat  to continue on with our island hopping trip. Snorkeling was the next activity on our jam-pack itinerary and before long we reached the water vicinity of Pangalusian Island, a mere 50 or so yards away from the beach.
Pangalusian Island has one of the widest stretch of powdery white sand beaches in El Nido. It is one of the fave spots for sun bathing and watching the dreamy sunset. Snorkeling is also a major thing to do here because of the coral gardens fronting the beach.
Kuya Roel told us that Pangalusian Island was recently bought by foreigners and public docking here were no longer allowed. Like Lagen and Miniloc, soon there will rise another high-end resort on this part of El Nido. Silhouettes of luxurious cabanas and cottages were already visible and it wouldn't be long until the resort will be complete.
As soon as we reached the snorkeling site, Jeff jumped into the water with only his flippers and goggles on while the rest of us donned our life vests.
The water turned out to be a bit blurry because of the crazy waves but despite the cloudy view it was still fun playing with the fishes. It was fun feeding them and watching how they scurry about catching the left-over rice we threw in their direction. Continue reading "EL NIDO | Pangalusian Island and Secret Lagoon Beach" »
Copyright secured by Digiprove © 2012 Joanna Jane Liwag
Out of all the things you can possibly put in your itinerary in El Nido, the one you should never miss out doing is island hopping tour. El Nido is known for its collection of scenic islands bordered with picturesque skyscraping limestone cliffs, with beaches characterize by dazzling fine white sand and azure blue waters. A number of lovely caves can also easily be explored, though some will make you swim or crawl just to get there. The lagoons which are delights on their own are so enchanting they will make your jaw literally drop in awe.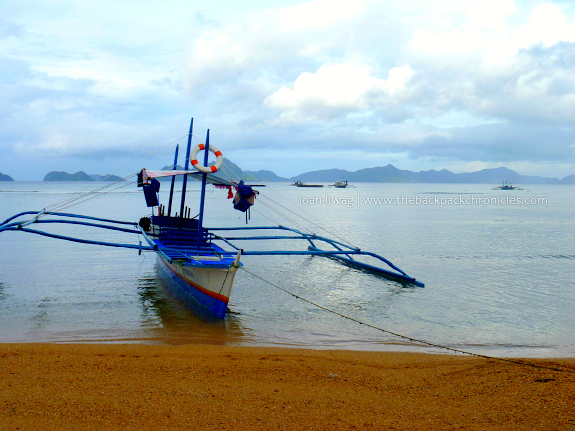 Corong Corong Beach, El Nido, Palawan
A beautiful morning smiled upon us the day we decided to do our island hoping tour. Because we woke up rather late than we intended to and we don't want to go on empty stomachs, we rush to the neighboring stores to get some last-minute provisions and end up meeting new friends, Ate Sol and Kuya Gerard.
Newly weds and spending their last honeymoon day in El Nido, they asked us if we wanted to go with them for island hopping tours to lower the expenses of renting the boat. We ask about the price and they told us it will be P1000/pax for a combination tour of A and B. Since we thought it was a good bargain (Tour A is originally priced as P700/pax and Tour B as P800/pax making it P1500/pax in total) we decided to go back to Stunning Vistas and have our tour cancelled. Kuya Roel, the boatman, told us it was not possible to cancel anymore since our food for lunch was already prepared. He then gave us a counter offer of P800/pax for the combination tour A and B, which we gladly took. We just asked the newly weds to go with us instead and the deal was finally made. Continue reading "EL NIDO | Pinagbuyutan Island and Cathedral Cave" »
Copyright secured by Digiprove © 2011 Joanna Jane Liwag