Tweet
Kind and friendly faces welcomes our group as we stepped out of the service van one by one. Like that of a greeting meant for a balikbayan, the welcoming committee acknowledge our presence with warmth and enthusiasm. After a whirlwind of handshakes, good afternoons and polite bows, Ms. Celine the marketing manager led us to a posh lobby.
It was 12 in the afternoon and we just arrived at Taal Vista Hotel, the largest Heritage hotel in Tagaytay.
The warmly lit lobby was crawling with elegantly clad guests when we entered. It turns out that two events, a wedding and a seminar, were scheduled to happen that afternoon explaining the crowd. From that first impression, it wasn't hard to gather that Taal Vista is a crowd favorite. Well, I wouldn't blame them for I became a fan myself.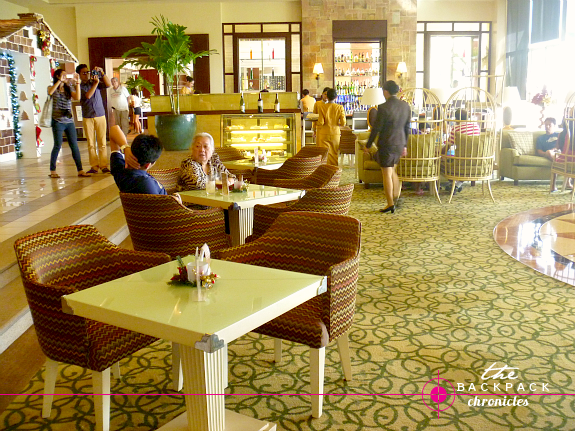 After checking in and depositing our bags at the reception area, we moved on to the Lobby lounge where we waited for our table reservation to be ready.
The Lobby Lounge is a perfect place to just chill and relax. Refreshments are served here to freshen up guests after a 2-hours trip from Manila or elsewhere. What I love about the lobby lounge are the spectacular view of Taal Volcano seen through the floor-to-ceiling glass panels, the warm earth colors of the details and last but not the least the iconic fireplace.
After a few minutes of waiting at the lobby lounge, a personnel told us that our table was ready. We then moved on to Cafe on the Ridge, the in-house restaurant of Taal Vista. Now for the best part… the buffet!

First thing I noticed about the buffet is the wide array of dishes to choose from. There were cold cuts, beef, pork, fish, and chicken dishes as well as salads, fruits, soups and vegetables – everything you can ask for a buffet. They also offer different themes ranging from Mediterranean, Italian, Japanese, etc. to traditional Filipino cuisines. The restaurant also have stations where you can watch the assistant chefs as they prepare your pastas, omelets and fresh lumpia just the way you like them.
Every food we ate during our  2-days stint at Taal Vista Hotel was delectable and appetizing. Everything was so delicious that by the time we went back home I believed I needed a new set of pants. LOL!
During weekends, Cafe on the Ridge also provides entertainment by showcasing traditional Filipino dances such as Tinikling, Maglalatik, Bulaklakan, Carinosa, Pandango sa Ilaw, etc. Be sure to check out these dances when your in Taal Vista for they are  really amazing.
Tinikling dance. The performers even asked some of the audience to join in this playful dance.
After our gorgeous meal at Cafe on the Ridge, we broke camp and check out our individual rooms. I will be rooming with Heiz of Journeying Pinay, who for the meantime was missing due to family matters. And so I got to solely enjoy the room  for the time being. Yehey! Hehehe.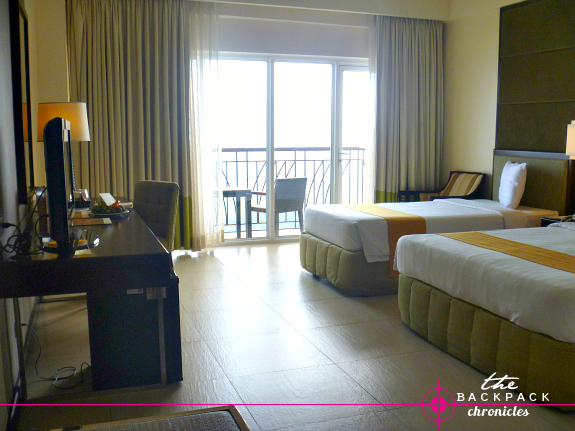 Our Premium room located at the Lake Wing.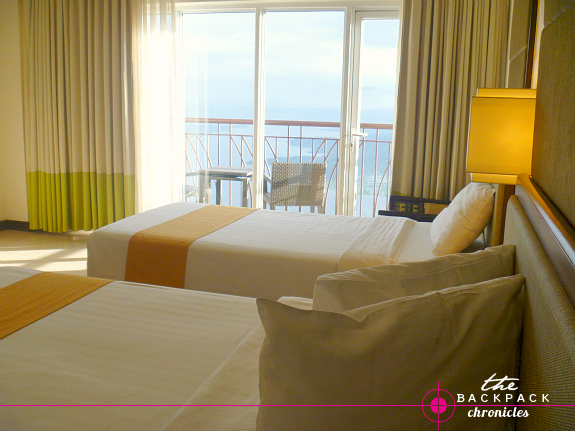 Soft and fluffy bed! I could stay here all day.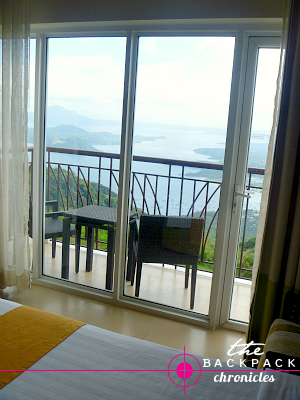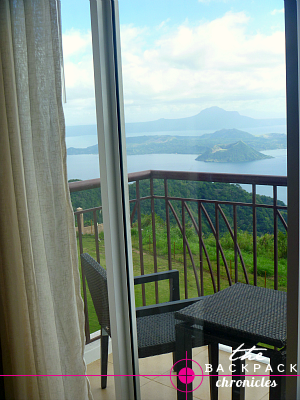 What I love most about our room was the view of Taal from our veranda.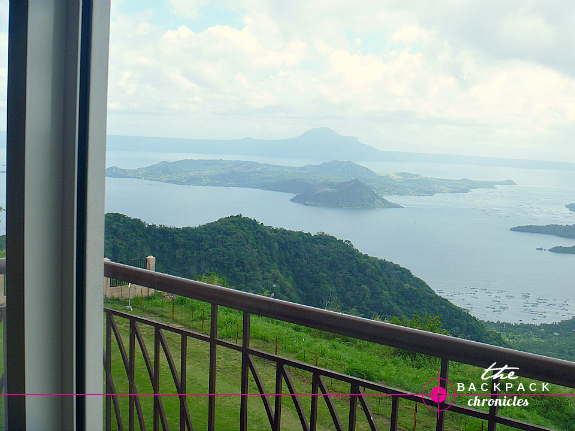 I literally jumped for joy when I saw this amazing sight. LOL! Kasi naman super ganda naman kasi ng view!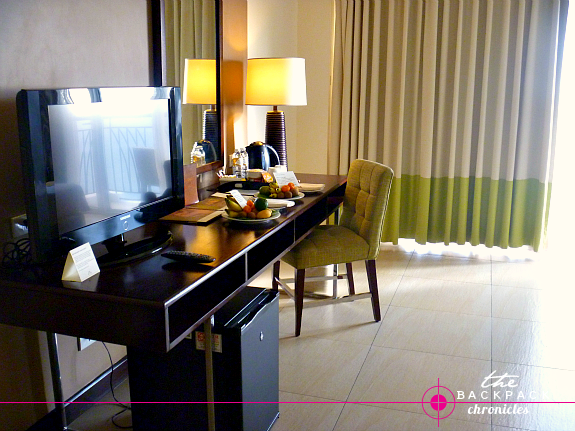 The vanity table and the mini bar.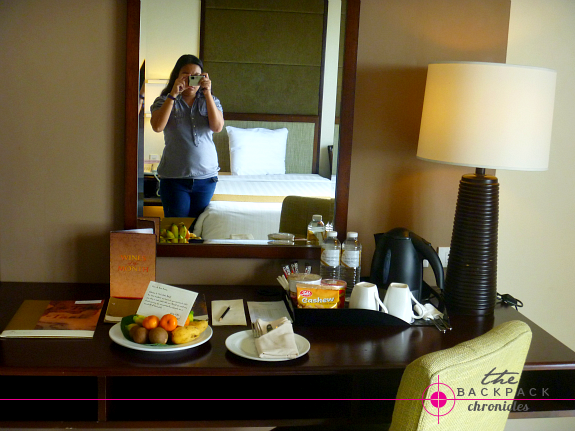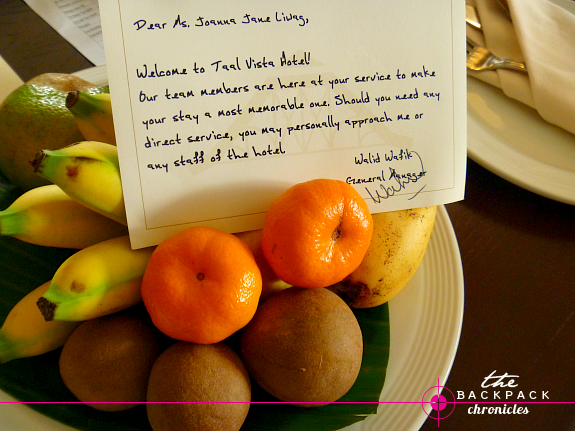 And the pampering continues! Fruits and personalized letter from the General Manager himself. Sweet!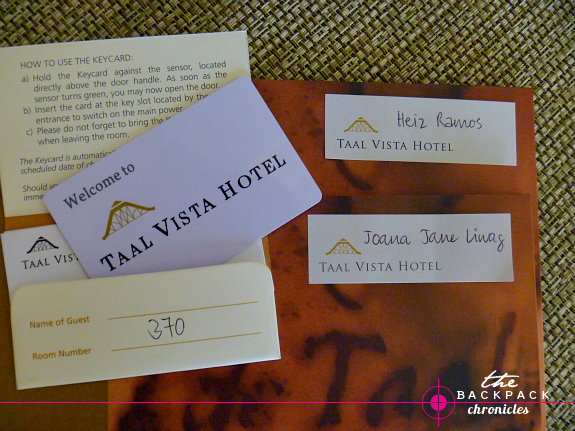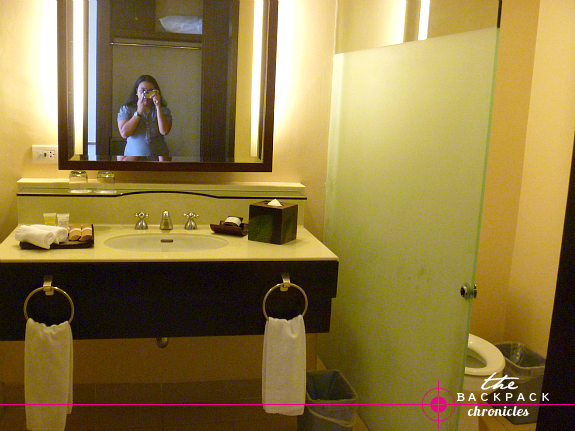 The toilet area is separated from the shower area.
I just love everything about our room. From the magnificent view of Taal Volcano seen from our veranda to the super comfy bed, to the personalized letter and fruits – everything imbibe comfort, relaxation and luxury. No wonder Taal Vista is a favorite getaway spot for those wanting to recharge for a weekend.
Our group with Mr. Walid Wafid (General Manager) and Ms. Celine (Marketing Manager).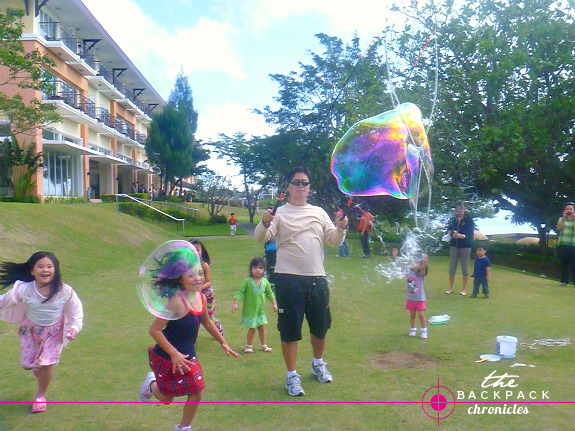 A fellow guest entertained the young ones by making bubbles.
Ang sarap panoorin nung mga bata habang hinahabol nila yung mga bubbles.
Our group met again at around 3pm for our scheduled tour of the vicinity. Ms. Celine became our guide and she took us to the different sections of the hotel.
From the lobby lounge she took us to the History Wall, the sprawling lawn, the Mountain Wing (where the suite rooms are located) and finally to Asmara Spa where another pampering session awaits us.
At Asmara Spa, guests can rejuvenate their tired bodies as they experience the delights of different massages ranging from Thai, Swedish, Balinese to the locally preferred Hilot. Guests may also choose from an array of scented oils that will surely put them into a relax and invigorated state.
Located at the Mountain Wing, Asmara Spa is also a great spot to catch the sunrise as it gives an unobstucted view of Taal and the rising sun. We originally planned to shoot the sunrise but because of the softness of the bed and our endless chikahan the night before we ended up oversleeping. LOL!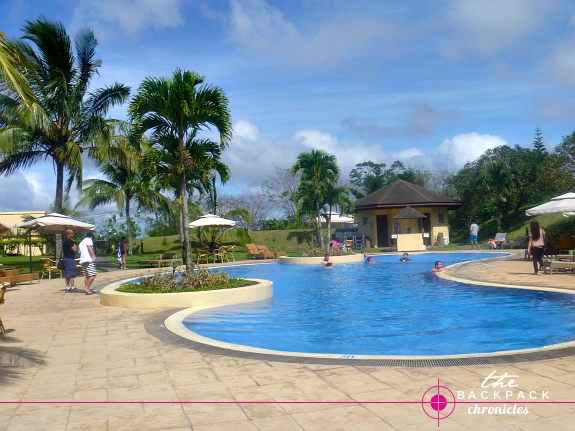 For those wanting to take a dip you may do so at the outdoor pool located at the Mountain Wing. Too bad that we didn't have enough time left to try the pool ourselves. Maybe next time?
If you want to spend a few relaxing days away from Metro Manila but abhors a long road trip or the hassles of an airplane ride, then I strongly suggest you head to Tagaytay and stay at Taal Vista Hotel. I promise you, you won't regret it. :)
---
Special thanks to Taal Vista Hotel for making this weekend getaway possible.
Like them on Facebook and follow them on Twitter.
Address: Kilometer 60, Aguinaldo Highway
Tagaytay City 4120, Philippines
Tel No:         +63 (2) 917-8225
+63 (46) 413-1000
Mobile No:  +63 (917) 809-1254
Fax No:        +63 (46) 413-1225
Copyright secured by Digiprove © 2013 Joanna Jane Liwag
4 Comments to "Spending the first weekend at Taal Vista Hotel in Tagaytay"