Tweet
"We are all in the gutter, but some of us are looking at the stars."
― Oscar Wilde, Lady Windermere's Fan
Despite the scarcity of moolah I experienced throughout the year, I somehow managed to scraped off some travel funds and get my butt across 13+ destinations, both locally and abroad.
So before a new calendar goes up the wall – unless the world comes to a stand still today thanks to the prediction of the Mayans – I would like to take this chance to reminisce and look back to those crazy times I had on the road.
Anawangin / Nagsasa / Capones, Zambales
January  2012 
PTB Bagets at Anawangin Cove, Zambales. Photo credit to Ian of Brownmantrips.com
This spontaneous trip to Zambales paved the way for all my wandering adventures in 2012. Out of nowhere, I ended up joining the birthday trip of a co-blogger named Ivan where I also met other adventurous souls like Elal, Chino, Byron, Ian, Cai and JL.
Together, we traversed Mount Pundaquit in the middle of the scorching heat of the afternoon sun (believe me when I say I almost died on that trek!), scared ourselves senseless during a kwentuhan-slash-takutan session in Nagsasa Cove, marveled at the night sky veiled with thousands of twinkling stars and bathe in the rough waters of Capones to reach the rustic Faro Punta de Capones. Needless to say, it was an unforgettable trip made even more remarkable by new-found friends.
Bulubudiangan Island, Iloilo
February 2012 
Going solo in Bulubudiangan
It only took a few glimpses at a local tourism brochure to seduce my travel-junkie soul into visiting this island. Four months and a seat-sale after, I left Manila for what will become one of the highlight trips of my life; a 3-day escapades to Bulubudiangan / Sandbar Island,  a secluded destination tucked in the northern part of Iloilo.
Getting stranded has never been more fun until that fateful three days I spent just bumming on the beach, lying on a hammock and watching those playful waves. It was the closest thing to solitude I got, considering I was the only visitor in that island for the duration of my stay.
Getting personal with the kind owners and hearing about their simple life stories inspired me in more ways than one. Through them, I learned that sometimes it's the simple things in life that counts.
Sagada, Mountain Province
February  2012
Tired but happy inside Sumaguing Cave. Photo credit to Eileen
Only five days after I came back from Iloilo, I found myself stuffing my backpack once again for yet another exciting trip, this time for Sagada. Two buses, one jeep, and more than 13-hours later, me and my St. Luke's buddies (Lancy, Mage, Elaine, Kat, Jim, Piolo, Louie), finally laid eyes on this charming little town in the Mountain Province.
Sagada left us nothing but fond memories. I would always smile when I look back on those times when we were lying on our backs trying to squeezed through a tiny opening inside Sumaguing Cave, or when we were splashing water like little children at Bomod-ok Falls, or the wonderful picnic we had at Kiltepan Peak, or the failed sunset we got in Lake Danao and the sumptuous buffet dinner that came afterwards.
As cheesy as it sounds, sometimes it's really the people you travel with that makes the journey more memorable. :)
Hong Kong 
March  2012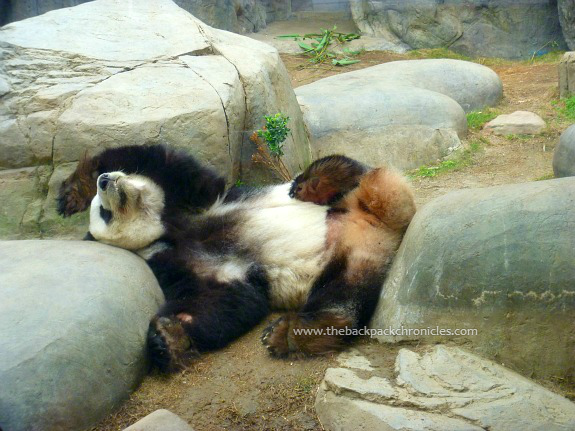 Santa, can you please give me this one?
The month of March marked one of the most important trips in my life: my first ever International Travel.
Not only was I able to set foot on another country, but I also got to ticked off a few items on my bucket list such as see a giant panda at Ocean Park, shop-till-we-drop in the shopping districts of Hong Kong, ride a double-decker bus, ate authentic noodles in one of the hole-in-the-wall restos, and took pictures with Shakespeare, even if it's just his wax figure. LOL! For these simple reasons, Hong Kong will forever hold a special place in my heart.
Macau
March 2012
Find the bridge where Jun Pyo and Jan Di broke up in Boys Over Flower series = Check.
Even if we only spend a day in Macau, we made sure that we maximized every second of it. Hence our amazing race-like adventure including several highlights such as  hunting for the bridge where Jun Pyo and Jan Di broke up in the hit Korean series 'Boys Over Flowers' inside The Venetian Hotel, watching the Dragon's Treasure show at the City of Dreams, going gaga over Stanley Ho's treasures inside The Grand Lisboa, gorging our way through Largo de Senado and St. Paul Ruins, marveling at the Fortune Diamond Show at The Galaxy Hotel and doing an evening stroll at Fisherman's Wharf.
Baguio City, Baguio
April 2012
Photo op session at Ben Cab Museum, Baguio. Photo credit to Dong Ho of Escapeislands.com
Thanks to the sponsored trip courtesy of Azalea Residences, me and a bunch of other travel bloggers were able to spend our weekend at the City of Pines once again. In a span of two days, we were able to visit the tourist spots in Baguio among other places.
Burot Island, Batangas
April 2012
Burot beach, the lesser known beach in Calatagan, Batangas
Summer wouldn't be complete without an escapade to the beach. So while everyone flocked to Boracay, Palawan, Puerto Galera, Anawangin and other popular beaches, we opted to camped-out on one of the lesser known beach of Burot  in Calatagan, Batangas instead. And the best part was we only spent Php800 each!
Jomalig Island, Quezon
May 2012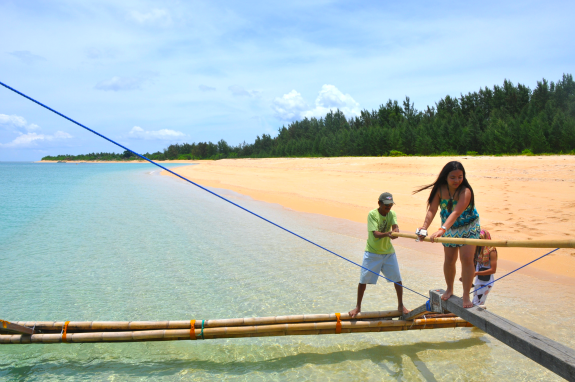 Balancing act at Salibungot Beach, Jomalig Island. Photo credit to Melo of Outoftownblog.com
Jomalig is one island I never knew existed until the trip itself. It was only an open-invite coming from a fellow travel blogger that paved the way for me to see this hidden paradise for myself.
Hosted by the Honorable Mayor himself, we spend our three precious days bumming around in different beaches, visiting a mangrove nursery, touring the surrounding islands and feasting on SEAFOOD. Think of crabs and lobsters for breakfast! LOL! Happy thoughts, if only I could bring back those times… Chos!
Davao City, Davao
July 2012
Tired but happy after our adrenaline-pumping white water adventure.
Sometimes it pays to be a die-hard romantic… especially when your cheesiness ends up in you winning a round trip ticket to Davao for two plus a 3-days hotel accommodation out of nowhere. As crazy as that sounds, that's a true story that happened to me last July. Thanks to a cheesy tweet I made on twitter, Air Asia chose me as one of their lucky winners. So yeah.
Highlights of this trip includes the white water rafting adventure which was a lot of fun but a bit heavy on the pocket, petting a baby tiger at Davao Crocodile Farm, and the amazing fire dancing show at the Tribu Kamindanawan.
Considering it was the first town I visited in Mindanao, Davao made a pretty good impression on me. Can't wait to be back!
Bantayan Island, Cebu
September 2012
 Beach bumming with Lancy and Kat.
I've heard nothing but raves for this island and for good reasons. Any certified beach bum will no doubt succumbed to the calling of its long stretch of white sand beach, turquoise blue waters and its over-all summery vibe. And unlike other popular beaches out there, Bantayan remains to exude a secluded feel, with only a handful of tourists lurking on the beach.
Bantayan will always leave an indelible mark on me, literally. Up to now I could still feel a slight ache on my left ankle when I accidentally fell trying to learn how to ride a bike. 5 days after that fall, my left ankle looked like a small squash because of the swelling. Painful, yes, but sometimes it's the only way to learn.
Oslob, Cebu
September 2012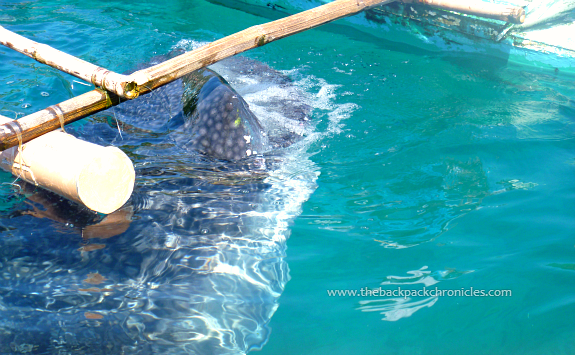 The tuki took my breath away. Chos!
Nature has a way of transforming me into a bubbling idiot from time to time and this was one of those many occasions. I just couldn't hide my excitement from seeing these gentle giants that I end up screaming the words Ayun, ayun, ayun with frenzied delight while pointing at their directions. Our boatman hurriedly told us to jump into the water to swim with the tukis (whalesharks) and we did, with no extra prodding needed.
Although we maintained the allowable distance between us and the whalesharks, the mere experience of swimming in the same water  with them was enough to fill us with awe. After all, it's not everyday that you get to swim besides a 40-feet fish with a mouth large enough for you to fit into. Morbid thoughts, but there actually was a time that I feel a little nervous when they came feeding a little too close. Feeling ko kakainin nila ko. LOL!
Digyo Island, Leyte
September 2012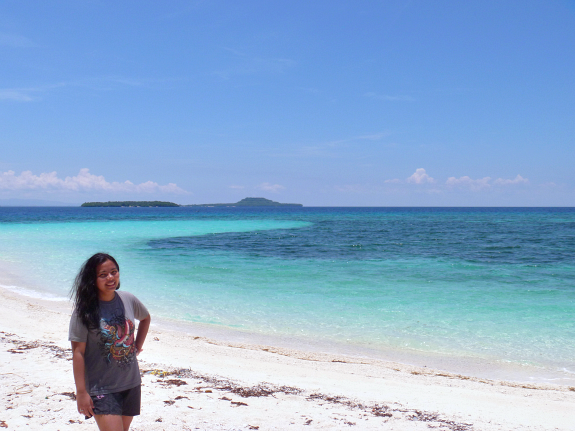 One of my fave beach ever. Kindly disregard my Hagrid hair. LOL!
Wow! That's the first word that popped into my mind upon seeing this stunning island in Leyte. White sand beach, crystal turquoise blue water, long stretch of sandbar, abundant tropical trees and a glorious mountain backdrop. What more can we ask for?
Banaue / Hapao / Hungduan / Alfonsolista, Ifugao
November – December 2012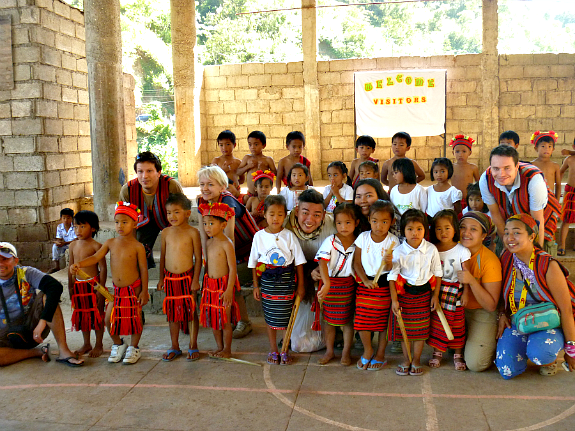 Smiling with the Ifugao kids after their heartwarming presentation. They're so cute!!!
When GOD blesses you, it's your responsibility to give back. And that's what we did last November, the Give Ifugao Project.
Together with other Pinoy Travel Bloggers (Heiz, Ian, Mich and Miguel) and new Polish friends (Marek, Magda and Shemeck), we visited 5 secluded schools in Ifugao to distribute school supplies to 300+ students.
Some of these children need to trek a maximum of three hours just to reach their classrooms and seeing their smiles as they accepted our gifts and their excitement upon putting on their new slippers were enough to put tears on our eyes. It was simply a one-of-a-kind feeling that will be forever etched on our hearts.
- – - – - – -
So there you have it, the highlights of my 2012. My best year yet, my year of perpetual summer. Thank you LORD for giving me a blessed and colorful year full of crazy adventures.
Likewise, I hope you had an amazing year as well. Here's to hoping for a better year ahead! May God bless our 2013!
---
This is my third entry to Pinoy Travel Blogger's Blog Carnival for December 2012.

Theme: "2012: This Year In Travel".

Hosted by Gay Mitra-Emami of Pinay Travel Junkie and
Regine Camille Garcia of Between Coordinates 
Click on the PTB Blog Carnival logo on the right to see the previous entries.
Copyright secured by Digiprove © 2012 Joanna Jane Liwag
31 Comments to "2012: A year of Perpetual Summer"