Tweet
They say that a Hong Kong escapade wouldn't be complete without a trip to one of its fancy theme parks. And so, like many gullible tourists who walked before us, we spend our Day 3 getting personal with the cuddly giant pandas inside Ocean Park.
Bucket list #31. See a giant panda in person = check!
Ocean Park Information
Ocean Park Hong Kong
Address: Ocean Park, Aberdeen, Hong Kong
Opening Hours:
9:30am - 8:00pm
Summit close: 8:00pm
Ocean Park Contact Details:
Tel: (852) 3923 2323
Fax: (852) 2554 2089
Email: gr@oceanpark.com.hk
Website: http://www.oceanpark.com.hk
Ocean Park Admission Fees:
Adult – HK$280
Child – HK$140
How to get to Ocean Park (from Mongkok)
Getting to Ocean Park is a no-brainer. It is as easy as catching an MTR from Mongkok (or from any station for that matter) to Admiralty Station and finding your way to Exit B where the Citybus Route 629 picks up passengers heading to Ocean Park. Bus fares are HK$ 10.60 for adults and HK$ 5.30 for children. The ride will roughly take about 30 minutes.
Where to buy Ocean Park tickets
Like any other theme parks, getting in line to get admission tickets would probably eat a lot of your valuable time. So if you want to avoid the hassle, you may opt to purchase your tickets through their website or from other authorize sellers instead. You can even use your Octopus Card to buy your ticket.
Authorize Ocean Park Ticket Sellers:
♥  China Travel Service located at the Airport – this is where we got most of our tickets from. They sell Ocean Park tickets for only HK$240 for adults instead of the original price of HK$280. That's a HK$40 discount! Children's tickets are sold at $120 instead of the original $140.
♥  7-11 Stores
♥  Major MTR Stations – gives 10% discounts
♥  Citybus Bus Route 629 Terminal (Mon to Fri before 3:00pm; Sat, Sun and Public Holiday before 4:00pm) near Admiralty MTR (exit B)
The adventure begins
The first thing we did when we enter the park was to consult the free maps given to us at the entrance. Ocean Park is a huge theme park, offering varieties of activities, shows and rides and to be honest, a day isn't enough to try each one of them. So to maximize time you have to choose which shows you want to see or the rides you want to try and after that plan your route accordingly.
In our case, we went to visit the reason we went here in the first place: the adorable Giant Pandas.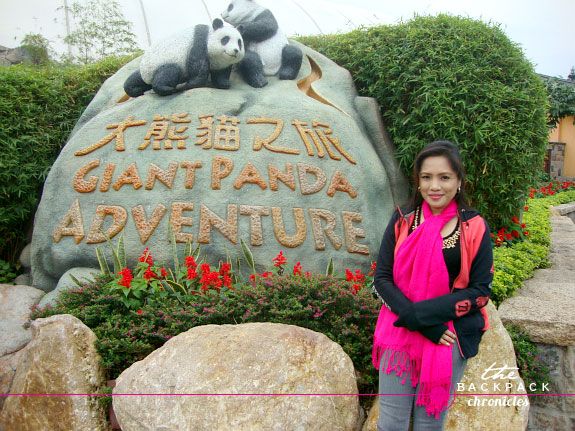 To date, there are four giant pandas residing inside the habitat. Jia Jia and An An were given to the Park by China in 1999 while Le Le and Yin Ying were presents from the central government to commemorate the 10th anniversary of Hong Kong's return to Chinese Sovereignty in 2007.
Two red pandas, namely Tai Shan and Rou Rou, also share the same compound with the giant pandas. Compare to the latter, they were only about 2 feet tall and look like squirrels but bigger. I've never seen a red panda before even on TV, so I was really delighted when I spot them. They were so cute that I was tempted to kidnap one. LOL!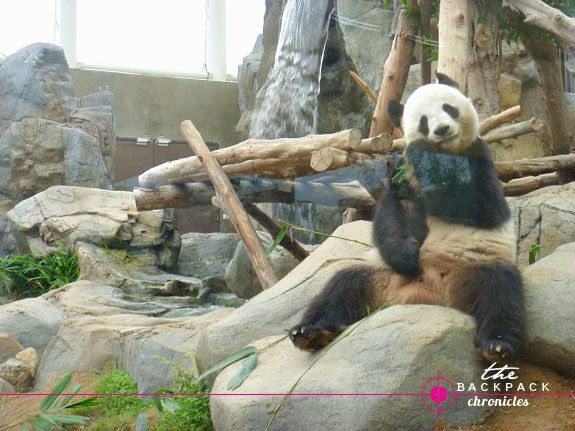 Le Le nibbling on a bamboo shoot.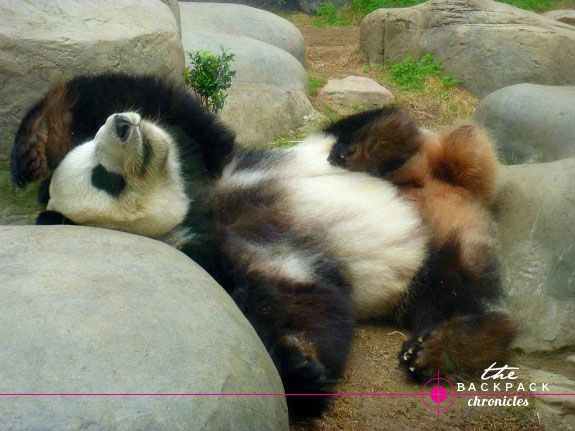 Yin Ying hibernating. He doesn't look tired at all. Does he? LOL!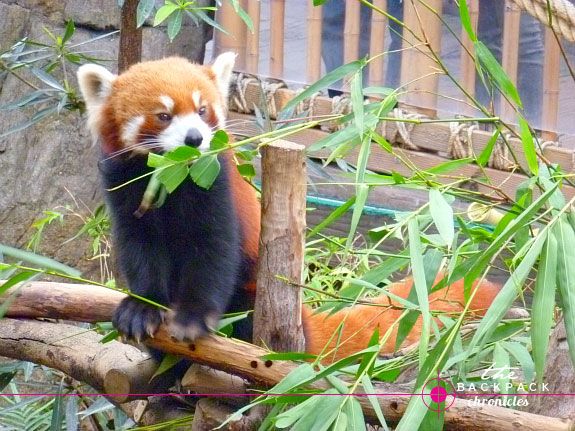 The camera-shy Rou Rou. It took a while for me to get a good shot of him.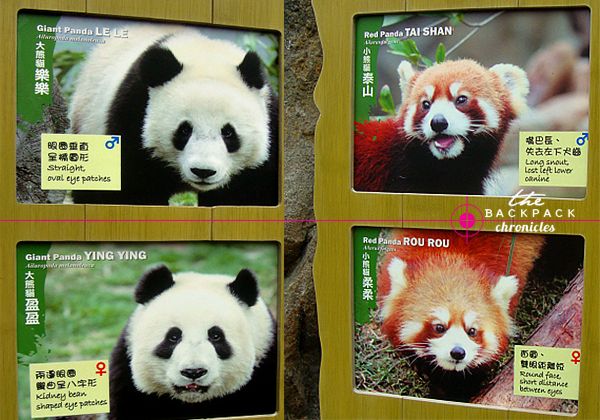 The giant pandas Le Le and Yin Ying and the red pandas Tai Shan and Rou Rou.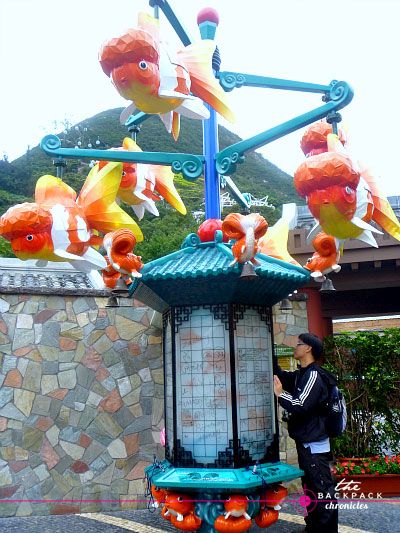 Message board for the pandas
After bidding a sad farewell to the pandas, we moved on to Waterfront Plaza to watch an acrobat performance. The place was already crowded by the time we arrived so it took a while for us to find the right seats.
Acrobats, gymnasts, clowns, magicians, and jugglers came together to create a lively, carnival show, with lots of fun surprises and incredible tricks. Before long we were laughing our heads off because of their crazy antics.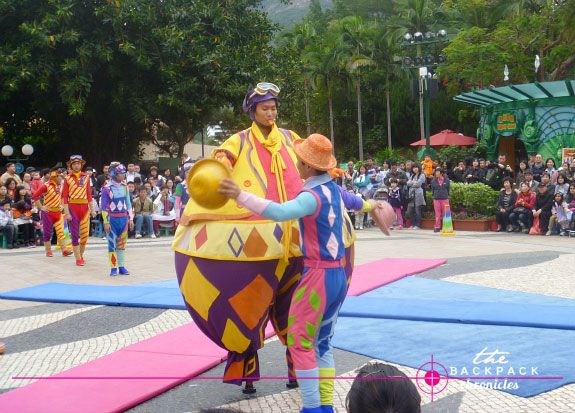 Crazy clowns and funny acrobats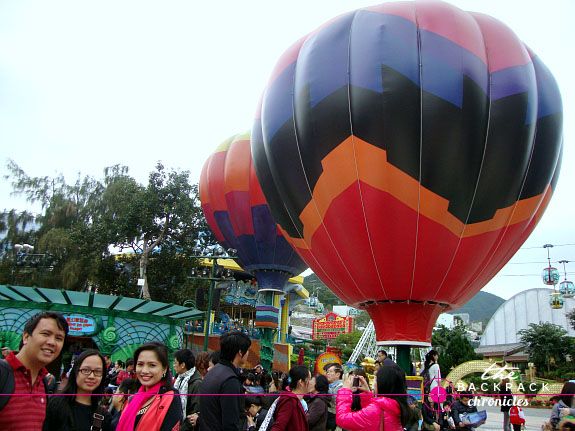 My travel buddies: my brother, my friend Cess and my sister-in-law Ate Bhing.
When the show ended we went straight to the Grand Aquarium, an oval architectural feat depicting a giant blue egg.
The first thing I noticed when we enter was a group of small children bending over something on a pool. It turned out that they were touching a display of sea cucumbers and star fish and the pool was aptly called a "touch pool". A few steps later, the lights started to become dimmer. Here, a  myriad of bizarre and scary-looking deep-sea creatures lurks in the darkness. Think of the fish behind Dory as she naïvely sings the "Just keep swimming" song.
30 minutes and thousands of fish later, we finally came across the viewing panel where 5,000 fish from over 400 species could be seen.
The 13-m acrylic viewing panel inside the Grand Aquarium.
With the Grand Aquarium behind us it was time to move on to another section of Ocean Park, the Summit. To get there we took the cable car.
Riding the cable car is a spectacular way to travel between the two sections of the theme park, which are located on opposite sides of a mountain. Astonishing view of the Waterfront and the surrounding district will surely take your breath away as the cable car take you higher in an unforgettable aerial journey.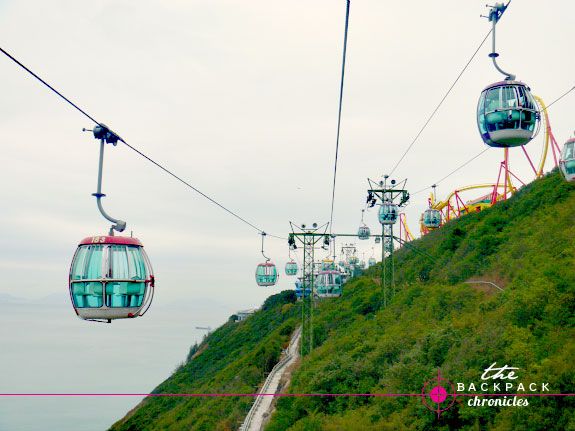 First cable car experience! Love it even though it was a bit scary. I have fear of heights after all.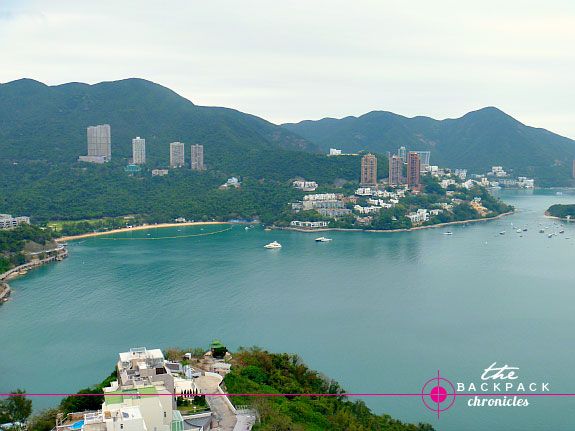 Who wouldn't fall in love with this view?
If you're a kind of person whose into extreme rides, then the Summit is the right place for you. Here, you will find rides such as The Abyss, The Flash, Hair Raiser, Eagle, The Dragon, Crazy Galleon, Rev Booster, Space Wheel and Mine Train that are guaranteed to give you an adrenaline-rush and make you scream your hearts out. LOL! You have to be patient though because sometimes the lines on these rides can get pretty long.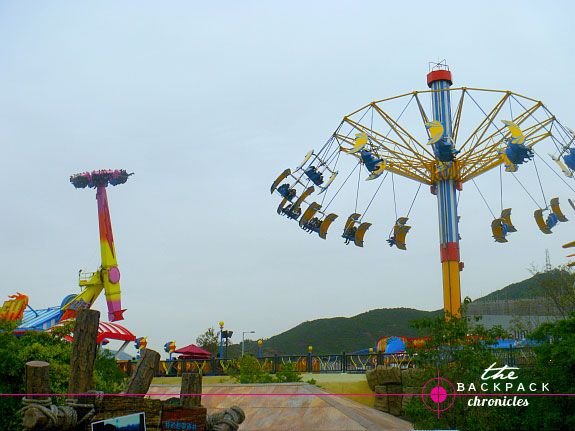 Left: The Flash is one of the meanest rides out there. If you have motion sickness never, ever try this one!
Right:  Whirly bird, the only ride we tried. It's just like being on a circular swing but more exciting.
The Ferris Wheel and the death-defying Abyss
After trying out the Whirly Bird ride, we went to the Ocean Theater to watch the Sea Dreams show.
"Sea Dreams" is an international world-class production with sound editing provided by an Oscar winner, featuring delightful music, dazzling backdrops, and stunning performances by its animal stars on stage and up-close with the audience. The 6-scene show unfolds with a grandfather telling his granddaughter about his dream of how humans and animals can live harmoniously, with mutual love and respect."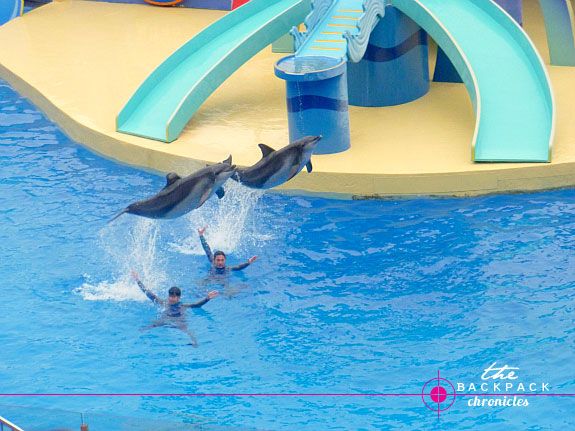 The audience kept on clapping as dolphins perform their impressive stunts.
Sea lions kissing their trainers. Awwwwwwwww.
Pacific Pier is another interesting place to visit while you're around the area. Here you will find 20 resident sea lions and seals sunbathing throughout the day and frolicking under the simulated waves. If you wish to personally feed them you may do so after paying HK$10 for the fish.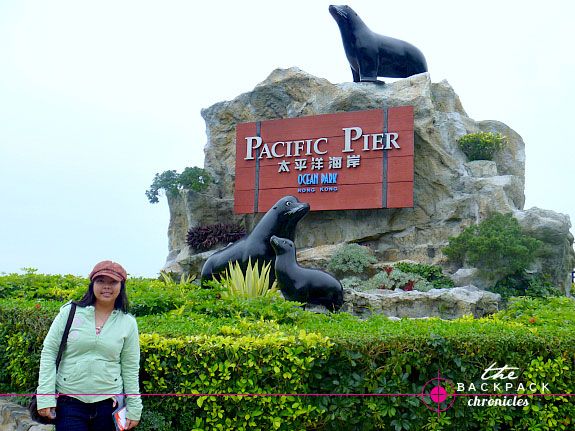 The only solo pic I have inside Ocean Park. :(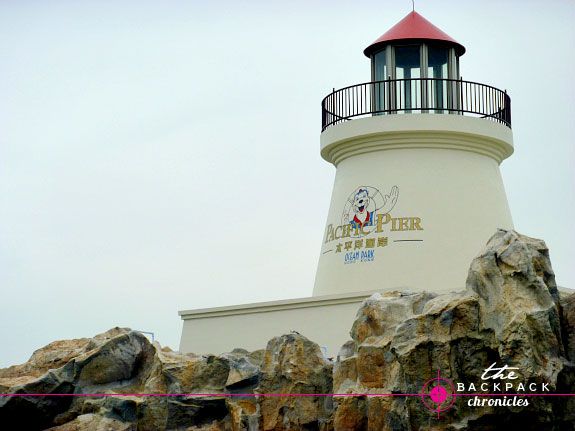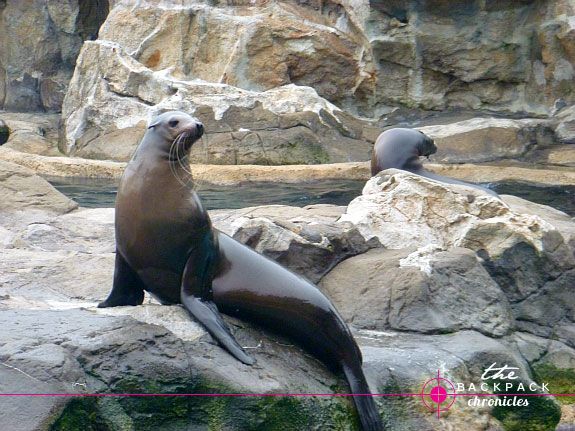 Sunbathing California sea lions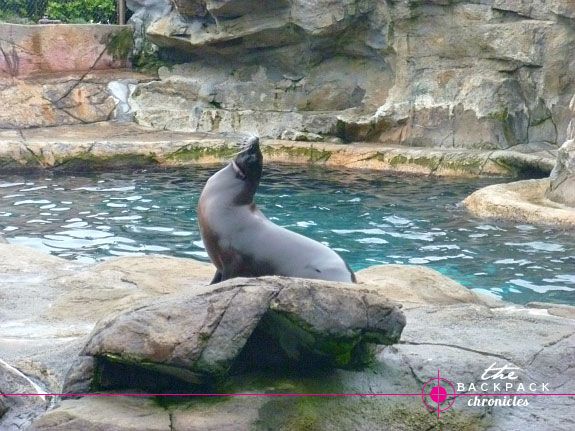 This one was busy playing with his fish.
It was already past 4:30 PM when we decided to go back to the Waterfront area. From the Summit, we took the free bus instead of waiting for another long queue at the cable cars. Catching the Skystar ride was still on our itinerary so we couldn't afford to be late.
We have to wait for 30 minutes before we can ride the Skystar. In theory, it was just like riding a hot-air balloon but instead of floating aimlessly in the air, the Skystar is secured by mechanical contraptions.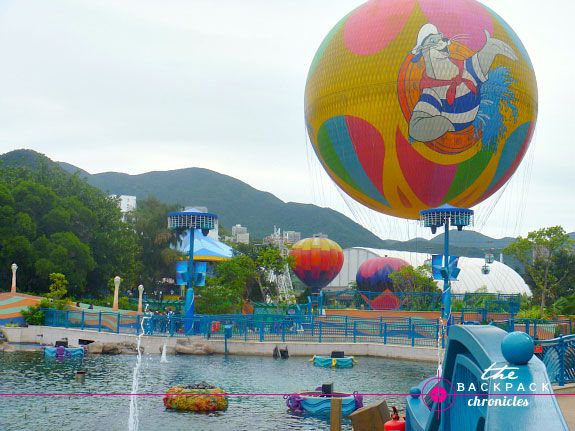 The Skystar. Too bad my camera's battery run out right before we stepped into this ride.
Our exciting day of tramping around the amusement park concluded with a stunning water and lights show called Symbio at the fountain area.
At exactly 7PM, the fountain came to life as it bursts with colorful lights accompanied by a dramatic background music. Minutes later the fountain transformed into a 360-degree water screen where the Water and Fire Dragons battled each other out for the protection of Mother Earth.
Overall, it was an exhilarating show interlaced with fire and other special effects… a nice way to capped off our Ocean Park adventure.
Copyright secured by Digiprove © 2013 Joanna Jane Liwag
4 Comments to "HONG KONG | A date with Giant Pandas at Ocean Park"