Tweet
The pimple encounter
Have you ever been in that situation where everything seems so perfect but when you looked closer, you spot a minute detail which turned the whole thing into a comical one?  Well, we had one of those experiences in Macau.
After watching the Fortune Diamond show at the lobby of the Galaxy Hotel, it was time for us to search for the location of the Banyan Spa. My sister-in-law, Ate Bhing, wanted to check out the interiors and the prices of treatments and services for canvasing purpose and so we had to squeeze a few minutes of our time for that.
The spa trip was uneventful and wasn't impressive enough. It looked like the usual spa with a bigger lobby and a softer sofa. Other than that it was pretty simple. Before we knew it, we went back on our way and stumbled upon two gorgeous-looking Human Dolls.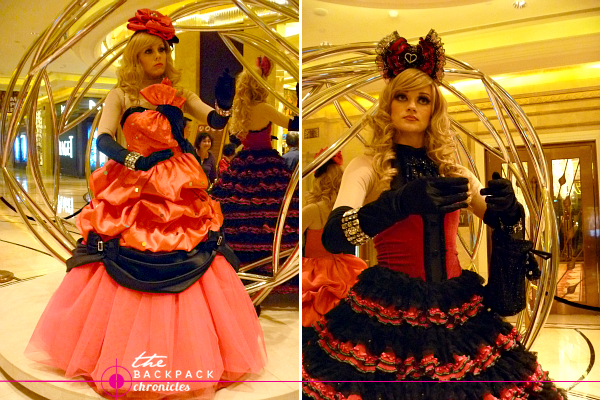 A small crowd was already gathering around them when we reached their spot. Just like any other dolls, they were very pretty, wore plump pink dresses and moved in a way  like those that are found inside a music box. With a tick and a snap they moved, little by little, in accordance to the melodies of the background music.
We kept staring at them mesmerized for about 2 minutes when my friend, Zig, blurted out something.
Zig:  Totoong tao sila! (They're real humans!)
Me:  Hindi kaya! Maniquin lang yan. (No, they're not. They're just maniquins.)
Zig:  Oo kaya! Tignan mo may pimple yung isa. (Yes they are! Look at the pimple on that one. *then points at the pimple*)
Me: OMG, oo nga! (OMG, you're right!)
As ridiculous as that sounds, yes that's how we figured out they were real humans… because of a solitary bulging pimple!!! LOL.
If the pimple wasn't there, we would probably walk off thinking they were just dolls. Really! They were that good! I mean, all those time, we couldn't even detect how they managed to breathe. LOL!
When the music ended, they finally moved in a normal way. Everyone in the crowd was applauding and cheering. The two dolls offered a sweet smile to the cheerful audience while reserving a poker face for our group.
Maybe they didn't like the way we stared at the pimple. LOL!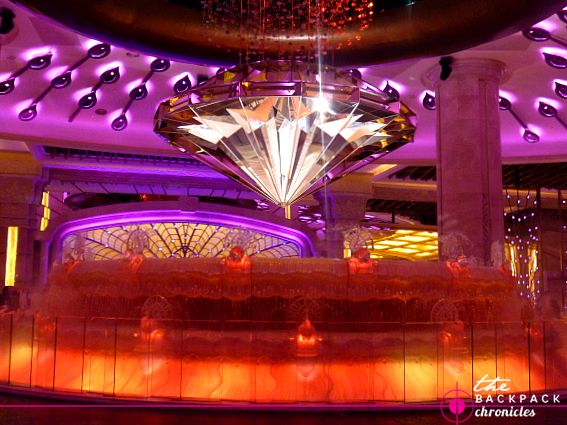 One last look at The Fortune Diamond before we go.
The Wishing Crystals
Wave your hands before these Wishing Crystals and watch what happens!
A five-minute walk from the Main Lobby led us to the South Wing where we had to catch the free shuttle bus bound for Macau Ferry Terminal.
Here, visitors will find an abundant display of interactive gems called The Wishing Crystals. Varying in colors and sizes, these gems were designed to add another Wow factor for the Galaxy Hotel. Wave in front of these crystals and watch them as they pulse with life and color. Really cool!
With the wishing crystals behind us, we walked out of The Galaxy Hotel with perfect smiles. Now, onto our last stop!
---
6 Days Hong Kong and Macau Adventure. March 7-12, 2012. A series of articles featuring my first overseas trip in Hong Kong and Macau, with Cess, Zig, Ate Bhing and Kuya Jorge.
+ Day 0 – HONG KONG | Touchdown to Hong Kong
+ Day 1 – HONG KONG | The noodles, the tram and the foggy Victoria Peak
+ Day 1 – HONG KONG | Madam Tussaud's Wax Museum
+ Day 2 – MACAU | The Venetian Hotel
+ Day 2 – MACAU | Of dragons, treasures and City of Dreams
+ Day 2 – MACAU | The Grand Lisboa
+ Day 2 – MACAU | The historic Largo de Senado and the iconic St. Paul Ruins
+ Day 2 – MACAU | The Fortune Diamond Show at The Galaxy Hotel
+ Day 2 – MACAU | The pimple encounter and the Wishing Crystals
Copyright secured by Digiprove © 2012 Joanna Jane Liwag
2 Comments to "MACAU | The pimple encounter and the Wishing Crystals"