Tweet
The stunning Bomod-ok Falls
Day 2 of our Sagada getaway started out a bit late. Everyone was exhausted due to our challenging trek inside Sumaguing Cave the day before so nobody bothered heeding the wake up call. 9 AM came and it was only at this time when most of us dragged our lazy bums off the comfy beds.
A quick Filipino breakfast ensued afterwards to fuel ourselves before we finally proceed on our itinerary. First stop for the day will be Sagada's version of the Underground River followed by a 2-hours trek to the Bangaan Rice Terraces in search for the Mother falls, more popularly known as Bomod-Ok.
First time to topload. Exciting!!!
The best way to travel around Sagada and enjoy its scenic views at the same time is to mimic the locals way of riding the jeepney – by means of toploading.
Visitors who wish to try this exciting way of getting around simply has to catch a jeepney plying to their chosen destination and hop on to the roof. Keeping your balance while the vehicle navigates its way through bumpy roads and steep, treacherous paths is a skill you will master by the time you reach your destination.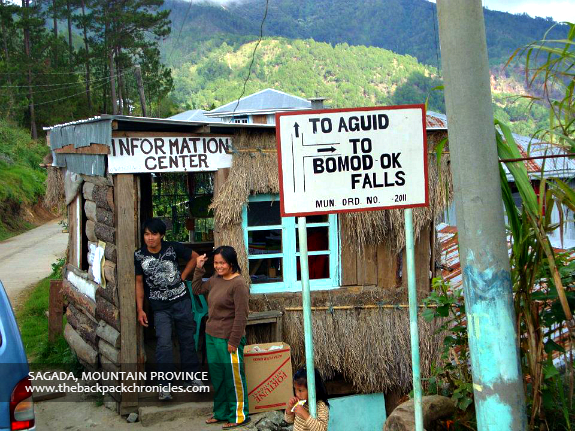 Tourist Information Center at Bangaan
After a quick detour at the Underground River, we went back to our hired jeepney and merrily proceed on our way. A few minutes  later  we stopped at the Tourist Information Center, fetched our guide and drive the remaining distance to  Bangaan.
Bangaan Town Proper
Our guide gave us a quick briefing before we finally begin our journey. With the sun hidden behind the clouds, we started off our downhill trek. Verdant views of rice paddies with rustic mountain backdrops lined our visions as we made our way through the maze-like trails of Bangaan Rice Terraces.
We were told that the sun can get exceedingly hot at noon so it would be better if visitors would put on some sunscreens or wear long sleeves for the trek. Since almost everyone in our group was wearing a jacket, getting sunburn didn't pose as a problem.
 The enchanting Bangaan Rice Terraces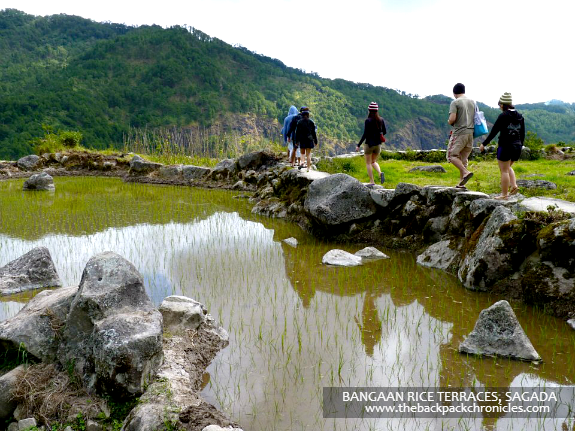 Concrete trails were laid down to make the trek easier for tourists
Halfway down, we came across a small barangay situated in the middle of Bangaan Rice Terraces called Fidelisan. Here, visitors need to register and pay an environmental fee of P10. After paying the registration and refreshing ourselves with sodas from a small sari-sari store we continued on our journey.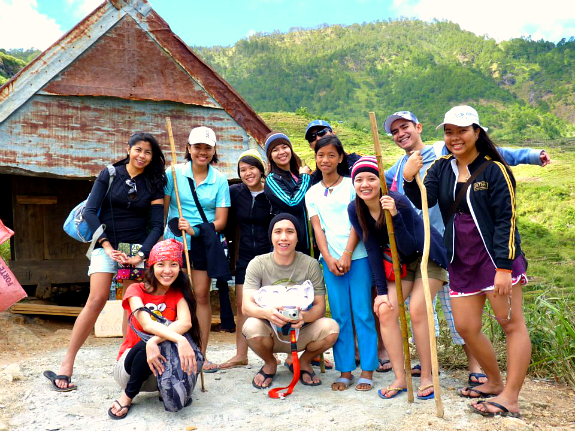 A few minutes later, we found a lonely-looking child selling ice-cold sodas and mineral water on one of the intersections. We spend a few minutes talking to her  and found out that she lives in Fidelisan.
Like many children in the area, she needs to walk more than an hour just to get to school because the nearest school building is located in the Town Proper. She wanted to make an extra income by selling sodas to help her parents out. Her story became our inspiration as we continue on our trek.
Real life Farmville!
A farmer busily planting rice.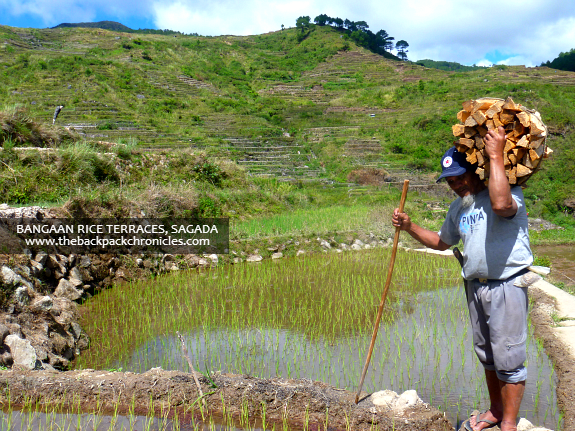 Wood cutting and wood carving are popular jobs in Sagada
Soon we heard the splash of falling water indicating that we were near. A few minutes more and we finally got a glimpse of the magnificent Mother Falls. The journey added to the exhaustion incurred from the day before but the welcoming view of Bomod-Ok and its cool waters was well worth the effort.
Tourists endured the long trek just to get a glimpse of this stunning waterfalls
Hopping through boulders we tried to find the perfect spot to capture the grand view of the falls. After a series of shots, we left our belongings in the care of our guide and excitedly surrendered to the invitation of the cool waters. A shiver run through me as I finally gave in and submerged myself.
An hour of dallying in the waters passed until we decided it was time to go. All we need to do was to trace back our steps to the town of Bangaan. Easy? NOT!
Halfway up, I found myself gasping for breath and taking a few minutes of rest for every few steps. It was a good thing that we had walking sticks to support us because the steepness of the concrete stairs proved too much for my pitiful knees. The sun was already on its peak and soon we were sweating buckets. By the time we reached Bangaan, I was ready to collapse.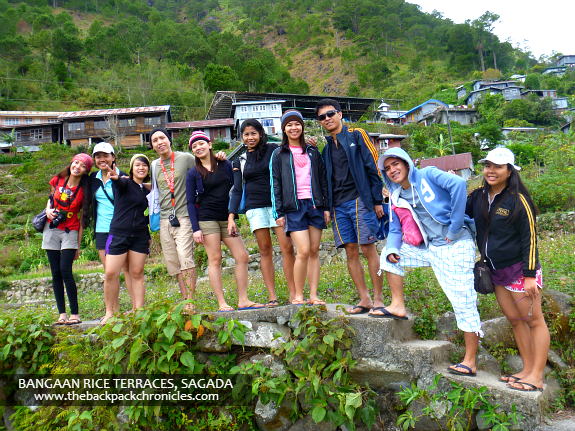 The whole cast: (L-R) Eileen, Mage, Lancy, Piolo, Elaine, Julie, Kat, Louie, Jim and yours truly
While the ascent back to Bangaan was a major killer, I must say that the whole trek to Bomod-Ok proved to be an enjoyable one. The bonding moments we had along the way and the breathtaking scenery of terraces and the Mother falls were enough reason to go back. So is it worth it? You bet!
---
How to get to Bangaan Rice Terraces and Bomod-Ok Falls
♦  From the Tourism Office in Sagada, visitors can hire a jeepney to take them to the different Tourist spots located around the area.
♦  If you choose to commute instead, you can catch a jeepney bound to Aguid from the Town Center. Then ask the driver to drop you off at Bangaan. Fare is approximately P20 with a travel time of less than 20 minutes.
Rates
♦  Jeepney Rental: P550 – 600
♦  Registration Fee at Fidelisan: P10/pax
♦  Tour Guide: P500 (for a group of 10 pax or less)
NOTE: Tourists are required to hire a local guide at the Tourist Information Center in Bangaan before trekking to Bomod-Ok Falls. This is to ensure that all tourists are well accounted for and is also a good way for  locals to generate extra income.
---
 Savoring Sagada. February 9 – 13, 2012. A series of posts featuring the charms and beauty of Sagada; the place, the culture and the people. With travel buddies Lancy, Elaine, Kat, Mage, Julie, Eileen, Jim, Piolo and Louie.
Part 1 :  En route to Sagada 
Part 2:  The Savory Pinikpikan
Part 3:  Surviving the Challenges of Sumaguing Cave
Part 4:  Chasing Bomod-Ok Falls
Part 5: Must visit places in Sagada 
Copyright secured by Digiprove © 2012 Joanna Jane Liwag
9 Comments to "SAGADA | Chasing Bomod-Ok falls"