Tweet
Overcrowded Largo de Senado
A faint smell of spicy beef wafted through the air as we dodged our way through the tourist infested area of Largo de Senado. It was a chilly Friday afternoon but even through the cold weather tourists and locals alike still flocked to the streets like there was no tomorrow.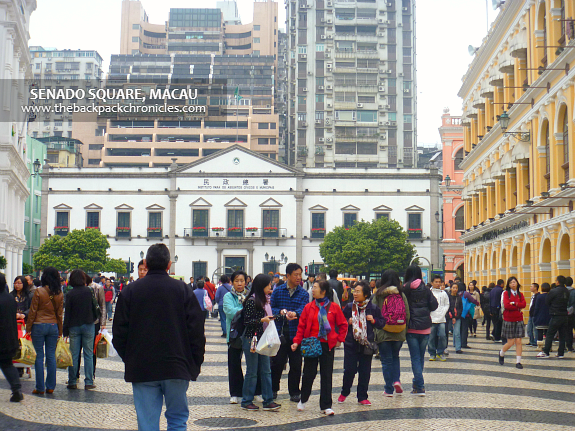 Tourist, tourist and more tourist at Senado Square, Macau
Largo de Senado, otherwise known as Senado Square, is considered as one of the most popular historical sites in Macau. Situated at the heart of  Macau Peninsula, this UNESCO World Heritage Site was the seat of power for the Portuguese as they ruled over the country for more than a hundred years.
Like most countries that had been under colonial rule, the Macanese graciously embraced Portuguese influences while retaining their own unique local customs. The result is a fusion of two beautiful cultures which are evident in the number of scattered iconic buildings and landmarks throughout the square.
Santa Casa Da Misericordia a.k.a Holy House of Mercy.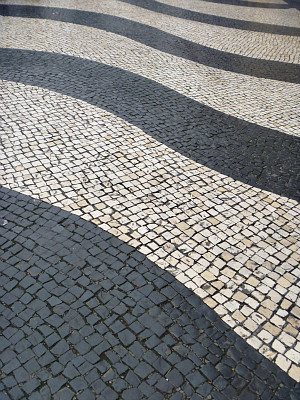 Left: Old Post Office Building.
Right: The black and white wavy patterns that can be seen throughout the square.
We weaved through the intricacies of human traffic like players in a complicated patintero game. With lots of people lurking in the square, it was a bit frustrating to take pictures as somebody keeps on slipping inside the frame.  A few shots elapsed before we finally got decent portraits of ourselves standing amid the wavy pavement.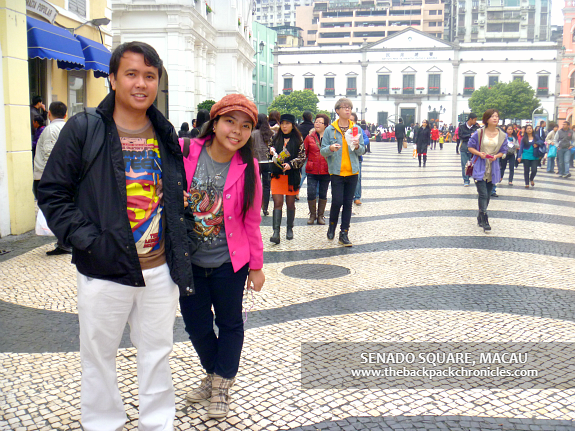 My brother and I after three shots. LOL.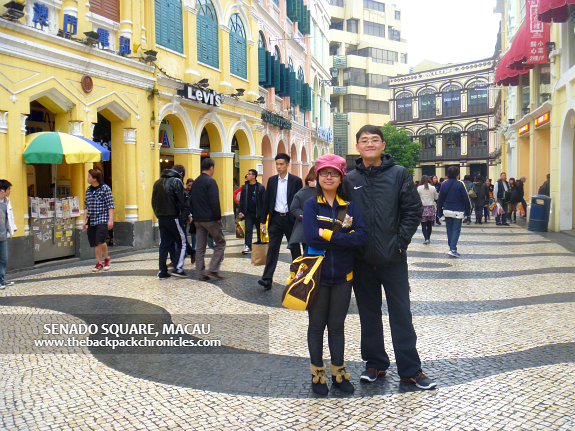 My friends Cess and Zig. Yiheee. LOL.
Trilingual signages – Chinese, Portuguese and of course English.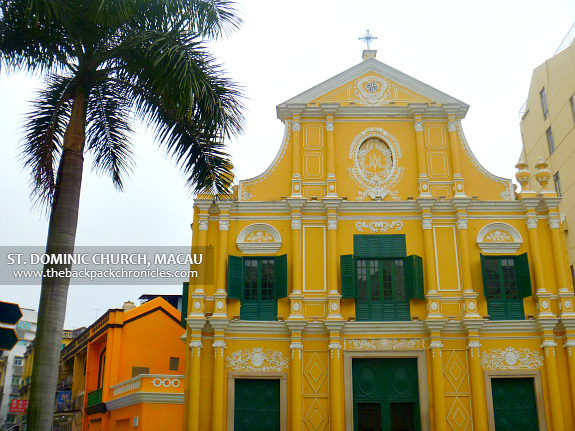 St. Dominic Church was built in 1587 by three Dominican priests. It was here where the first Portuguese newspaper on Chinese soil was published.
After the obligatory photo ops, we managed to dragged ourselves away from the busy crowd and into a more congested alley. A series of  high-end boutiques and hawker shops lined up both sides of the narrow street offering a variety of goods; from branded clothes and high-tech gadgets to beef jerkies and other local delicacies.
Attack of the Beef Jerkies
Free taste galore!
Every single store that sells beef jerkies on this part offers free taste to passing tourists as a way of  advertising. So if  you have not eaten yet, fret not, for this is the best spot to get some free meal.
Naturally, we tried some as well and by the time we reach the end of the road we were bloated and we couldn't stand another bite of the succulent beef. Ang takaw kasi namin!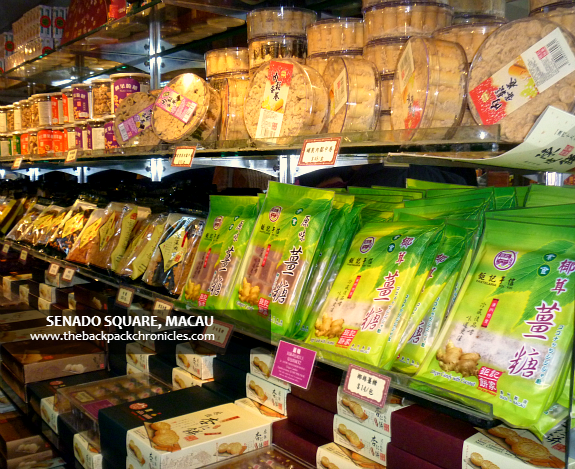 Shopping for pasalubongs at Pasteleria Koi Kei
The Iconic St. Paul Ruins
People say that you haven't really been to Macau unless you get a glimpse of the Ruins of St. Paul. It is the most popular landmark in the country after all, garnering its notoriety from the fact that it endured a series of unfortunate events.
Enlisted in the UNESCO World Heritage Sites in 2005, Ruinas de Sao Paolo otherwise known as St. Paul Ruins is the remnants of what used to be the greatest Catholic church in Macau and even in East Asia, the Cathedral of Saint Paul.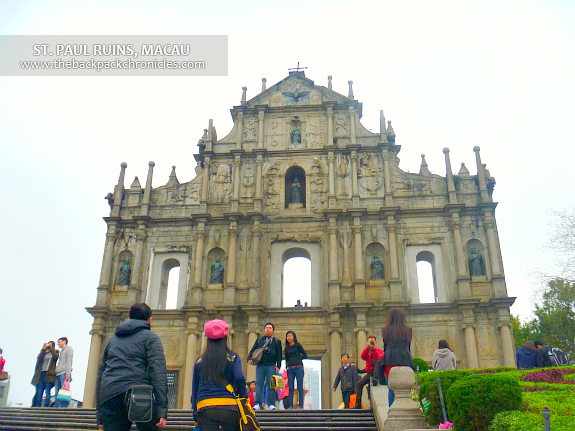 The Cathedral was built by Macanese and Japanese Christians under the supervision of Jesuits missionaries in 1580. A fire broke out in 1595 and although the church survived its first encounter with the element, it was however completely destroyed when a second fire emerged in 1601. The church was reconstructed by 1637 but after two centuries of peace, disaster strikes again. A typhoon wrecked havoc in the country causing another big fire, burning down the church in its wake for the last time.
Today, only the baroque-style facade and the grand staircase stood as a memorial of its sacred past.
Yummy Portuguese egg tarts for MOP2 or Php10.
It was sad that we only got to spend a few minutes at the Ruins. I would love to stay longer but since we still have a few stops to go before going back to Hong Kong and it was already 5PM, we decided to ditch the ruins and head on our way. But before that, we made sure to grab some of these delicious Portuguese egg tarts. :)
Now on to the next stop!
---
How to get to Senado Square and St. Paul Ruins
♦  If coming from the Lisboa, or Wynn Macau, you can easily walk to the square along Avenida Infante D. Henrique (which becomes Almeida Ribeiro). You will see Senado Square on your right after 10 minutes.
♦  If you're coming from other attractions across Macau, please refer to this link.
---
6 Days Hong Kong and Macau Adventure. March 7-12, 2012. A series of articles featuring my first overseas trip in Hong Kong and Macau, with Cess, Zig, Ate Bhing and Kuya Jorge.
+ Day 0 – HONG KONG | Touchdown to Hong Kong
+ Day 1 – HONG KONG | The noodles, the tram and the foggy Victoria Peak
+ Day 1 – HONG KONG | Madam Tussaud's Wax Museum
+ Day 2 – MACAU | The Venetian Hotel
+ Day 2 – MACAU | Of dragons, treasures and City of Dreams
+ Day 2 – MACAU | The Grand Lisboa
+ Day 2 – MACAU | The historic Largo de Senado and the iconic St. Paul Ruins
+ Day 2 – MACAU | The Fortune Diamond Show at The Galaxy Hotel
+ Day 2 – MACAU | The pimple encounter and the Wishing Crystals
Copyright secured by Digiprove © 2012 Joanna Jane Liwag