Tweet
Two hours before sunset, our adventure in Sagada finally begins. After stuffing ourselves with local cuisines such as the Pinikpikan and purple mountain rice, we hastily changed into more comfy clothes and bound for the road once again. This time en route to one of Sagada's famous spots: the ever mysterious Sumaguing Cave.
From the town center, we walked for about 30 minutes passing by picturesque views of  rice fields and terraces as well as humble wooden shacks until we arrived at the gate where two ominous writings containing the welcome message and the caving rules marked the walls.
"These caves are sacred spots, respect them. "
After that we went down a series of concrete steps until we reached the opening of the sacred cave which was partly obscured by the leaves of large trees surrounding the area.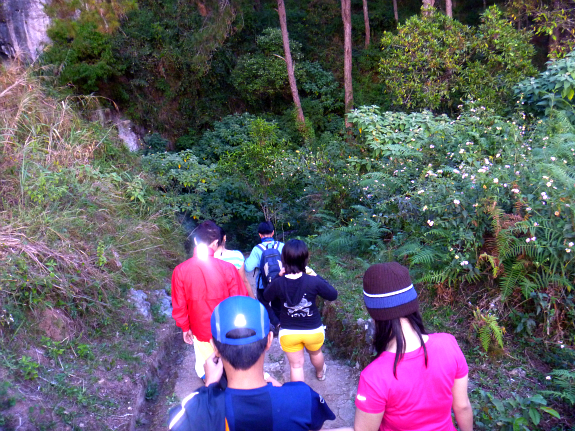 It was at this point that paranoia started to eat me up. The cave after all was shrouded in eerie darkness and the only light that pierced through the shadows came from the gasoline lamp brought by our guide and the head lamps we're wearing back then. Concrete steps eventually gave way to slippery rocks and before we knew it, we were only inches away from a 40+ foot ravine sitting on the edge of the limestone stairs.
My friends didn't have any problem standing so near the cliff while I, on the other hand, succumbed to my fear of heights.  My heart started beating so fast that I could almost hear the blood rushing through my veins. For a few panicky minutes I was just standing there, too nervous to move. Jim (one of my friends) had to finally assist / drag me down, steps after slippery steps, until the end of the stairs in order for me to get out of other people's way.
The  King's Curtain. =)
I would love to say that everything went smoothly after that but it didn't. Nevertheless, I found myself eventually relaxing and enjoying our adventure, despite the fact that Jim and the guide were glued to my side as if I was an invalid. Well, considering my bad luck , my fear of heights and my utter lack of balance I did need the assistance. I was just too embarrass to admit it.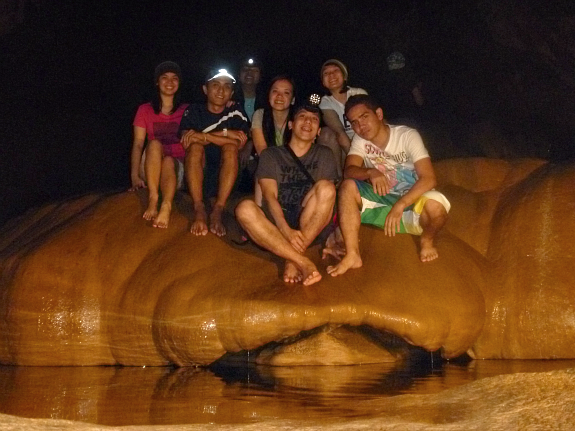 Posing at "The Turtle".
The deeper the cave went, the more wet  the surrounding became. We even had to leave our footwear behind since it would be easier to maneuver barefoot with the rocks and boulders becoming too slippery because of the moist. There were also parts where we had to passed by mini waterfalls, wade into chest-deep cold waters and squeezed into tight wet spots.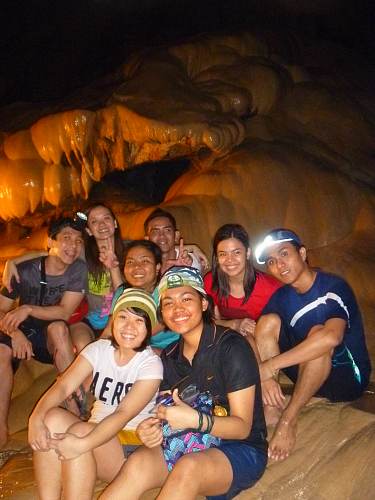 Scary alligator rock formation.
Time and again, Kuya Roger (our guide) would point out to a peculiar rock formation. Like the stalactite and stalagmite formation on the Underground River in Puerto Princesa, the ones inside Sumaguing Cave were also pretty interesting. In the length of our journey, we came across a turtle, an alligator, a chocolate cake, King's curtain and even a female genitalia!
We usually stayed a few minutes on these spots, took some group shots and listen to Kuya Roger rattle off some trivia before moving on.
 Elaine sitting by the edge of King's Curtain.
 Mage's balancing act atop The King's Curtain.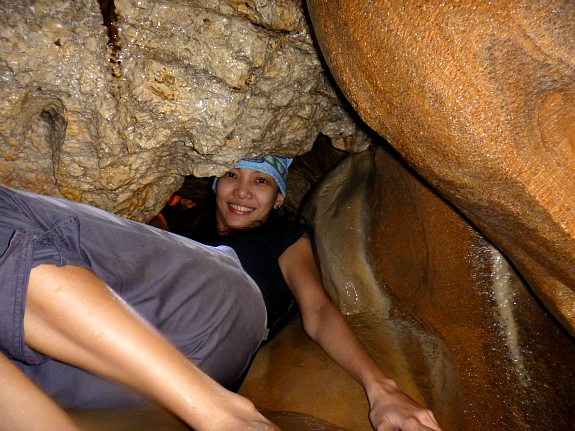 Eileen emerging from a very tight spot
Left: Piolo sporting a surprised look. Right: The lovers Kat and Louie taking a prenup shot. Chos!
The path became steeper and more challenging as we go deeper inside the cave. There were times when we need to crawl, slide down and even cross boulders by means of hanging through ropes. Our guides even became human ladders at the King's Curtain when we had to step on them just to reach the flat surface below.
Lancy's hanging by the rope shot.
Believe me when I say that the hanging by the ropes moment wasn't easy. In fact, it was one of the most challenging thing we did during the 4-hours Sumaguing Cave experience.
Simply put, you just have to cross a slippery boulder while you hang on to a rope. Easy, right? To make it even more exciting,  there is a deep pool waiting below for those unfortunate enough to have a mishap and fall on this part.
For someone like me who doesn't have a single athletic bone in her body and who has a sloppy balance, it was simply an impossible task. I even acquired a big bruise on the knee when I accidentally slipped and loose my footing as I tried to navigate my way here. Thus, I end up slamming my body to the boulder, garnering a bruise as a souvenir. Thankfully, Kuya Roger rescued me before I could fall onto the deep pool waiting below.
Soon, we finally arrived at the end of the cave and started on our way back. The trek up was even more difficult and there was a time when we had to climb a 10-foot boulder only guided by another set of ropes. Kuya Roger and the rest of the guides had to assist me once again, since they found out that I was the weakest link on our team.
By this point, I was starting to have a love-hate relationship with ropes.
Another hour of mindless walking, careful balancing, and stressful climbing came to pass until we finally found ourselves standing at the foot of the limestone stairs. Thoroughly wet and burn out, it was taking every single effort to push ourselves further at this point. The 100+ steps we had to hurdle added to the exhaustion and by the time we reached the top we were practically dead.
Despite the hardships we endured from our spelunking adventure inside Sumaguing Cave, it was still one of the highlights of our Sagada experience.
For beyond the challenges it gave us, lies a rugged beauty that can only be uncovered through the exploration of its glorious depths.
---
 Savoring Sagada. February 9 – 13, 2012. A series of posts featuring the charms and beauty of Sagada; the place, the culture and the people. With travel buddies Lancy, Elaine, Kat, Mage, Julie, Eileen, Jim, Piolo and Louie.
Part 1 :  En route to Sagada 
Part 2:  The Savory Pinikpikan
Part 3:  Surviving the Challenges of Sumaguing Cave
Part 4:  Chasing Bomod-Ok Falls
Part 5: Must visit places in Sagada 
Copyright secured by Digiprove © 2012 Joanna Jane Liwag
4 Comments to "SAGADA | Surviving the challenges of Sumaguing Cave"