Tweet
"When anxious, uneasy and bad thoughts come, I go to the sea, and the sea drowns them out with its great wide sounds, cleanses me with its noise, and imposes a rhythm upon everything in me that is bewildered and confused."
– Rainer Maria Rilke
Adele's 'Someone like you' kept playing in my mind like a broken CD as I sat by the battered window seat inside the rickety old bus. Outside the window fluffy white clouds adorned the vast blue sky and hovered over a landscape dominated with greens: trees, shrubs and fields after rolling fields of rice paddies. Lakes and fish ponds could be seen occasionally breaking the monotony of vegetation.
I would've fully enjoyed the scenery if not for our manic driver who was crazily moving in and out of traffic in a way that will make Harry Potter's Knight Bus proud and made me wish I had taken a different bus instead.
After 3-hours of roller coaster ride courtesy of the Ceres bus we finally managed to safely reached the northern town of Sara. I quickly transferred to an equally worn-out jeepney bound for Concepcion, hoping that the vehicle would leave soon so I could still catch the lone public boat going to my destination.  Thankfully it did and by 10:00 AM I was already scrambling on my way towards the pier. I didn't bother going to the tourism office for fear of getting left behind by the boat.
2 wrong turns after and a local woman, Ate Ising, who apparently saw my frustration, graciously accompanied me to the right place. I found out later that the boat I was supposed to take already left but Ate Ising arranged for the next one to make a detour and drop me off to Bulubudiangan Island. Thank heavens for kind locals like Ate Ising, if not for her I would have ended up renting a private boat which will surely put a large dent on my finances.
Most of the passengers of the boat were local traders and it took a while to load up all their goods. By the time we left the port it was already past 11 AM. Good thing the sun was playing hide-and-seek with the cottony clouds so it wasn't completely hot.
The clock ticks away and we finally arrived on my desired destination. I never thought Iloilo could be more gorgeous until I finally laid eyes on  Bulubudiangan Island.
Love at First Sight!
Bulubudiangan otherwise known as Sand Bar Island is one of the best beaches that can be found in the northern part of Iloilo. Many tourist, both locals and foreigners alike, came to this place to snorkel in the crystal clear blue water and enjoy the breathtaking scenery of the surrounding islands. True to its name, the island feature a long stretch of sand bar that would shift to different directions depending on the wind.
Who wouldn't fall in love with this view?
4 barking dogs served as my welcoming committee upon landing on the island. It was understandable considering no one knew I was coming, having made the trip in a spur-of-a-moment-kind-of style. Thankfully, the caretaker arrived after a few minutes and I was spared from ending up as dog food.
Welcome to Sand Bar Island Beach Resort
Kuya Nino introduced me to Kuya Sonny, the kind and generous owner of the island. The latter then interrogated me; asked why I didn't contact them in advance and why I was travelling alone. For a single heartbeat, I felt I was being drilled by the military. LOL!
He told me that they were not expecting anybody that day so I really took them by surprise when I  suddenly popped up on the beach. They were even more curious by the mere fact that I was alone. Apparently, I was the first solo female who attempted to camp out on the island by herself. Kuya Sonny told me that I was very brave but very foolish at the same time. Nice compliment huh?
After answering their queries, satisfying their curiosities and haggling for the rates, Kuya Sonny led me to the place where I will be nesting for two nights, a bamboo cottage near their house.
My humble abode for 3 days and my favorite hammock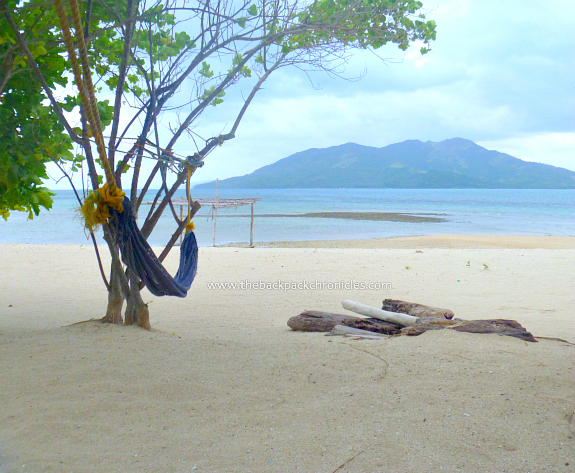 With all my bags properly stowed away in the cottage, I excitedly went back to the hammock which I've seen along the way. The sun was unrelentingly hot by then so I decided to spend the first few hours taking it slow;  just chilling on the hammock, listening to the whispers of the waves and admiring the spectacular view.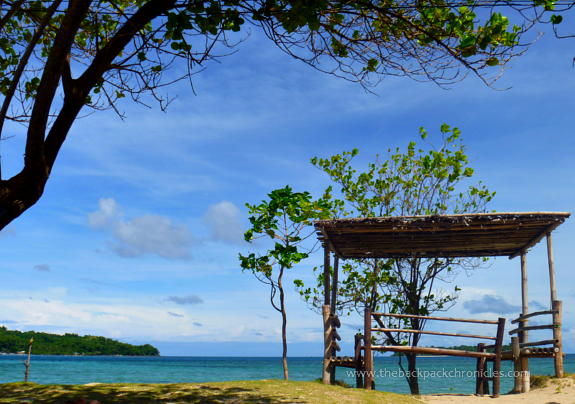 I could still remember how grateful I felt at that very moment. I realized, as I sat on my swinging hammock, that I was blessed with lots of things and most of the time I was too stubborn or too jaded by my problems to see that. I was never contented with what I have, always seeking those things that were not. 
Being given the chance to explore is one of those blessings. I realized that not everyone has the choice or the means to travel. Many people doesn't have the luxury of time or the money or the freedom or the strength. As it was, I barely made enough money of my own but thankfully it was enough to take me to places I've only dreamed of before.
Traveling has and always been a dream and getting to live it is a miracle of its own. For this I will forever be grateful. =)
To be continued…
---
Solo in Iloilo Part 4 - February 1-4, 2011. This is a series of articles featuring my solo adventures in Iloilo; my sojourn within the city, the iconic churches of Iloilo and the Island of Bulubudiangan in the northern part of Iloilo.
+ Part 1:    Snapshot – Kalungkutan
+ Part 2:    Seeking Paradise in Bulubudiangan
+ Part 3:    Sun-kissed and Stranded
+ Part 4:    Travel Guide | Bulubudiangan Island
Copyright secured by Digiprove © 2012 Joanna Jane Liwag
34 Comments to "ILOILO | Seeking Paradise in Bulubudiangan"