Tweet
Having to spend the last holy week hibernating at home while the rest of the nation either went merrily back to their hometowns  or flocked to some secluded beach was not a cheerful idea. But since I promised my brother that I will help him out with his thesis, I resigned to the fact that I wouldn't be going anywhere for the meantime.
So after sulking at home for a week, it was a pleasant change to hangout anywhere else aside from our beloved house. It got even better for I got to camp out at Burot Beach (one of the many undeveloped beaches in Calatagan, Batangas) with five cool blogger friends for a cheap budget of Php800, all in!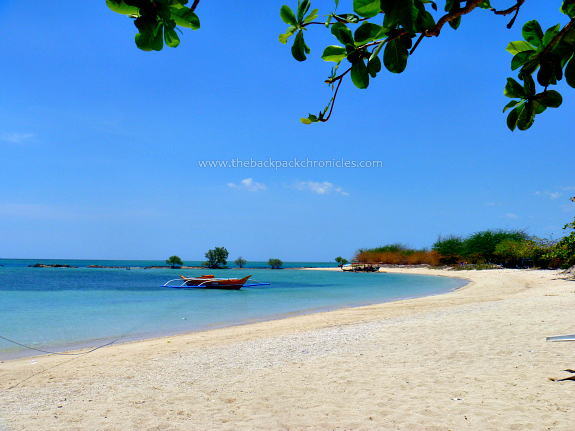 How to get to Burot Beach
We took a bus bound to Calatagan, Batangas at the Bus Terminal near MRT Taft Station. The line was already long when we arrived  but thankfully we still got enough seats for all of us. There are no fixed schedules for buses going to Calatagan so be sure to get there early if your planning to commute. Travel time is 3 hours for a fare of Php 193 (Aircon Bus).
It was almost noon when we reached the sleepy town of Calatagan. We decided to eat our lunch first before heading to the beach to lessen the things we're going to carry. After eating, we bought more food and other supplies that we'll be needing for an overnight stay. When everything was set, we hired a tricyle to take us directly to Burot beach. The original fare was Php 150 but we were able to haggle it down to Php 120. Travel time is 20 minutes.
Contact No: Kuya Cesar (tricycle driver) +63.915.224.4206
NOTE: Burot Beach a.k.a. Elizalde Beach was recently bought by SM Corporation. Since then an entrance fee of Php120/pax was implemented. It was also said that SM is going to develop the beach in the coming months, so if your planning to visit it make it soon.
The Burot Beach experience
The sun was scorching hot by the time we arrived at Burot beach. We didn't want to risk getting roasted by the direct heat of the sun so we basically stayed under the cool shades of a dilapidated cottage. The cottage may not have been anywhere near as grand as the holiday cottages in Scotland but it was all we had at that time and we were grateful for it. Munching on some junk foods (lumpia and mam inasal) while listening to Chino's comedic antics was our way of passing time.
Two hours after and we couldn't resist the water anymore. Like little children, we enthusiastically run into the water, splashing, playing and swimming to our hearts delight. We had so much fun that we end up staying in the water for more than a couple of hours. By the time we dragged ourselves to the shore, I was already shivering with the cold.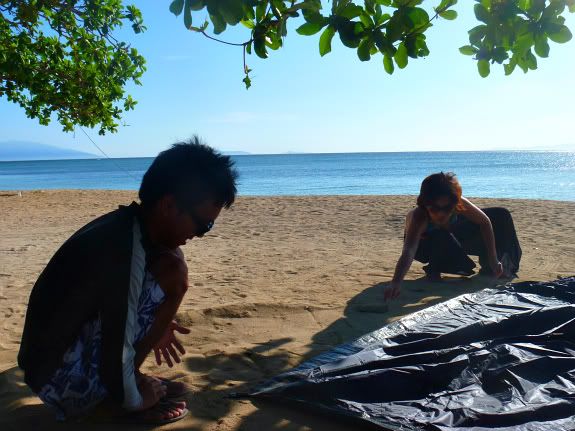 Marx and Carla setting up camp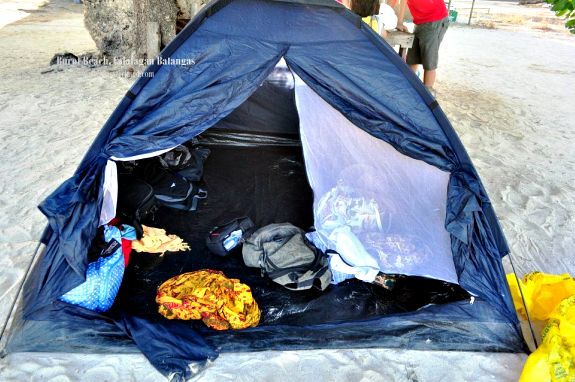 It was almost sunset when we finished pitching our tent and moving our things.  Because there are no other lodgings on the beach except for the tents the visitors are suppose to bring and Marx was the only one who brought his tent among our group, we ended up squeezing ourselves just to fit inside the tent. Just imagine six grown people sleeping on  a tent good for 2-3 pax. One word. Sardines! LOL.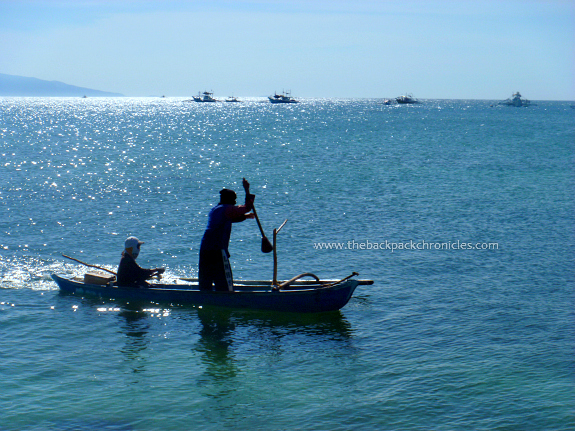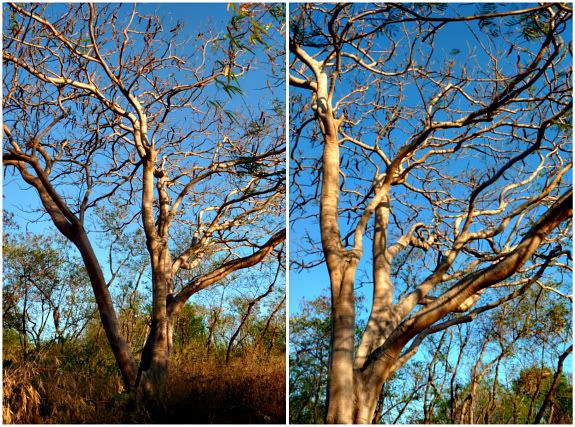 After setting up camp, we then strolled around to explore the rest of the place. We found three mangrove trees, where thousands of baby fish dwell, on the left side while two more beaches to the right side, each smaller than the main beach.  Lots of poop scattered along the way so you really need to mind your steps. It was also sad to see that garbage of previous campers were littering around. I was expecting that the place will be kept clean considering the entrance fees but it was clearly not well-kept.
We settled on one of the smaller beaches to await the magical setting of the sun. When it finally did, I was once again mesmerized by the sheer beauty of the great star slowly being embraced by the deep blue sea.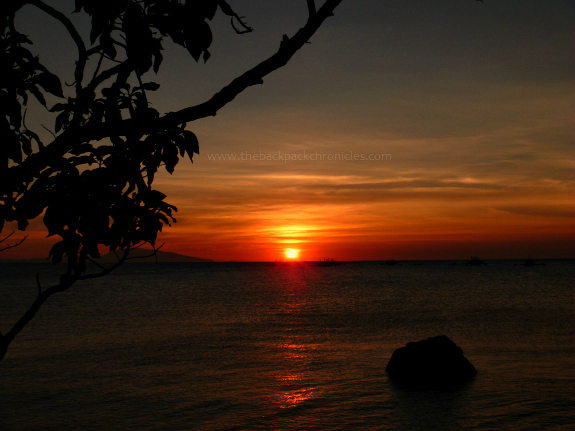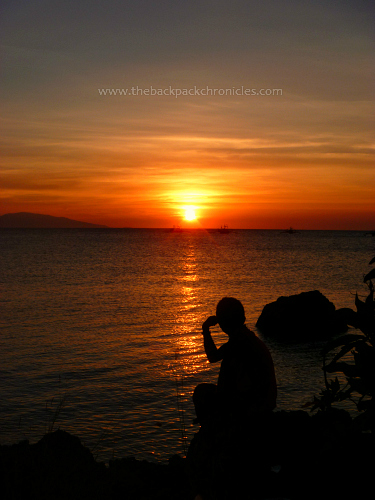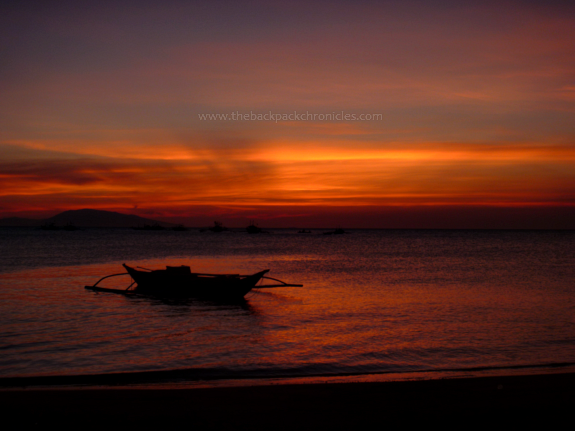 Our dinner came in the form of canned goods, cold rice, bananas and more chips. It was a simple one compared to our neighbors freshly cooked food but it was okay since we had more laughs to wash it down with. After the food came the "OPEN FORUM" where we shared our blogger crushes, our haters comments, foolish things we did during high school, favorite destinations, bloggers that inspired us and many more.
The night sky was full of stars so we decided to move a little closer to the shore to looked upon them. It was a wonderful bonding moment as we tried to dig up childhood memories of our fave cartoons. Chino even remembered Princess Sarah's theme song and dialogues even after all those years. LOL!
We finally succumbed to sleep in the wee hours of the morning. As I have mentioned before, there was only one tent so imagine how we slept that night. Our neighbor can't even believe that we fit inside the tent that they came to see it for themselves. Hahaha.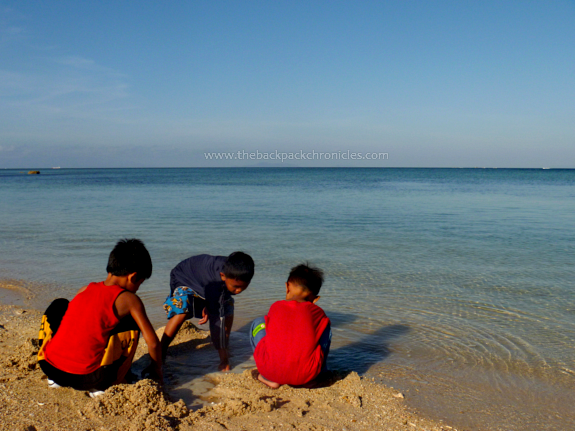 Morning came and it was time to pack up. As I slowly folded my clothes, I smiled as I remembered everything that was said and shared the night before.
This is why I love hanging out with other travelers. Not only do you share the same passion but you also learned a lot from their experiences, be it good or bad. =)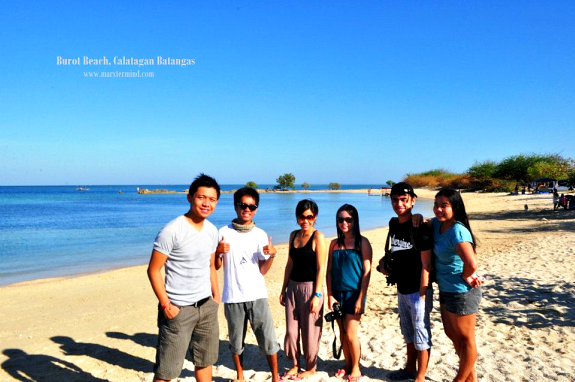 ---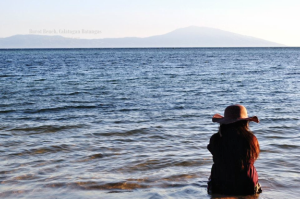 Burot Beach, Calatagan, Batangas.
April 14-15, 2012.
An overnight escapade at a secluded beach in Batangas with other travel blogger friends Elal, Chino, Marx, Carla and Kenny.
P.S. Thanks to Marx for lending some of his pictures for this post.
---
This is my entry to the Pinoy Travel Bloggers' Blog Carnival with the theme WHERE WOULD YOU TRAVEL GIVEN A P1,000 BUDGET?  this month of August 2012.
Cris Reyes aka Pinay Thrillseeker of Love Conquers All hosts this month's blog carnival.
Click on the logo on the right to see the archive of previous Pinoy Travel Blogger's Blog Carnival.
Copyright secured by Digiprove © 2012 Joanna Jane Liwag
159 Comments to "BATANGAS | Overnight budget getaway at Burot Beach"