Tweet
It isn't a good idea, to wear shorts when travelling to Baguio or Sagada during the freezing month of February.
That was the first lesson we learned as our group hobbled towards the waiting taxi that later brought us to the terminal for buses going to Sagada. It was 5 AM and we just spent the last six hours journeying through the night from the busy streets of Manila to the still slumbering town of Baguio.
Of Pine trees, blue skies and mountain peaks.
To say that we were not ready for the cold was an understatement. In fact, we couldn't help but to shiver as the morning breeze welcomed us in its icy embrace, making our hands and our bare legs almost numb with the cold. A hot breakfast, consisting mostly of noodles, became our saving grace and helped warm our bodies from the biting cold.
Since it was still too early for our next ride, we decided to make a quick detour on a couple of Baguio's famous sites.
Burnham Park. Picture taken on a later date.
Baguio side trip
Our first stop was the ever refreshing Burnham Park. From the bus terminal, we walked for about 10 minutes until we reached the heart of the city where the urban park is located.
Even though it was only 6AM, the place was already buzzing with people. Joggers were running everywhere; aerobic fanatics clustered around dancing to the beat of the latest pop songs; taho vendors calling out to the crowd to buy their sweet offerings. It was fun to witness so much activity going on even in those early hours of the morning.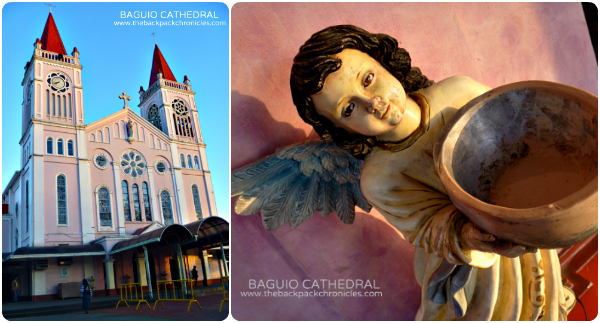 The rose-colored Baguio Cathedral and an angel statue offering Holy water.
Our next stop was the rose-colored Baguio Cathedral. From Burnham Park, we walked for about 5 minutes towards Session Road until we reached the foot of the concrete stairway leading to the church. We had to climb more than a hundred steps before we got a glimpse of the twin spires of the famous Cathedral. There was an ongoing mass when we arrived so my friends took the liberty to say a little prayer while I linger behind to take some shots.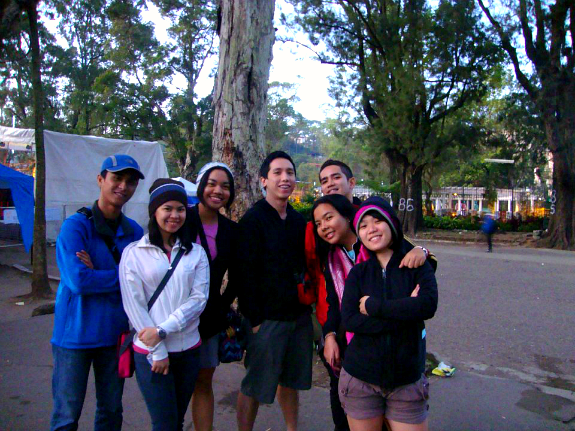 "I have found out that there ain't no surer way to find out
whether you like people or hate them than to travel with them." – Mark Twain
From L – R:  Louie, Kat, Mage, Piolo, Jim, Yours truly and Lancy.
A sudden call from our guides, Julie and Eileen, made us hurry back to the terminal after roaming around Baguio for almost two hours. Apparently, the bus we were suppose to take, the one going straight to Sagada, already left us behind after a group of college students reserved the entire bus. Ang swerte lang namin di ba? By the time we reached the terminal, tempers were starting to flare.
Good thing we do have an alternative. A bus bound to Bontoc fortunately turned up at that moment and we decided to take that one and transfer from Bontoc to Sagada via van instead. That way we wouldn't be wasting time waiting for another Sagada-bound bus and we could also stick closer to our itinerary.
On the way to Bontoc
By 10 AM our bus was expertly zigzagging along the treacherous roads of the Mountain Province. Enchanting views of lush terraces masterfully carved on the sides of mountains, swaying pine trees, manicured vegetable lawns, and stilted wooden houses distracted our attention from the fact that we were venturing on our way, only inches away from falling off cliffs. Thankfully, our driver was skillful enough  to maneuver our bus out of harm's way.
Terraces and vegetable patches are common sights in the Mountain Province.
Photo credit to Eileen Macalincag.
Halfway through, bad luck strikes again and our bus suddenly bugged down. It turn out that one of the tires popped up from roughing out unpaved roads. Sino ba talaga ang may balat? LOL!
Because of this, a good 20 minutes or so were spent changing the tires until we could go back on the road again.  By 2PM we finally reached  the sleepy town of Bontoc.
Bontoc Sidetrip
Bontoc, a 3rd-class municipality, is the capital of the Mountain Province. Its name was derived from the words bun means heap and tuk means top which when taken together means mountains.
Since it was situated in the middle of the Mountain Province, Bontoc became a popular jump-off point when going to Sagada, Banaue or Besau. Because of this, Bontoc became a melting pot of the Cordillera culture while retaining its own unique identity.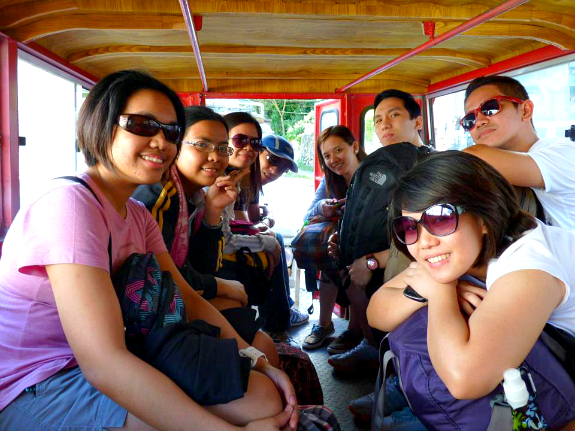 The bus dropped us off on the main road. Since we don't have any clue where the vans plying to Sagada were parked, we had to asked a local police officer for directions.  Two turns later, and we finally found the right place. We had to wait for half an hour before every seat in the van was taken. Soon, we were back on the well trodden path, skirting through edges of mountains and enjoying the scenic views on our windows.
Sagada… finally!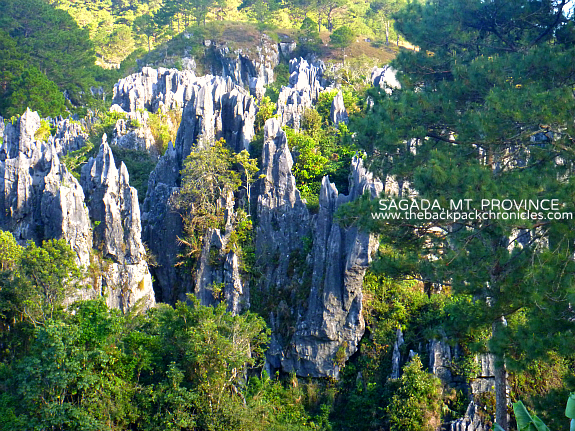 My first glimpse of Sagada was a vision I will not soon forget. Enchanting panoramas of jagged limestone cliffs, newly plowed rice terraces and lush rolling fields blending beautifully under the perfect blue sky. Tall, verdant pine trees whose branches swayed to the rhythm of the winds, flanked the roads on both sides. Humble shacks and modest houses clinging to the edges of mountains. Locals selling their goods of freshly harvested vegetables and fruits. I have heard so many great things about Sagada and true enough the place exudes a certain charm.
My heart beats with anticipation as the van finally came to stop. Sagada, after all, is one of my dream destinations and having the chance to finally come to this place is considered a blessing.
Now, our adventures in Sagada begins…
---
 Savoring Sagada. February 9 – 13, 2012. A series of posts featuring the charms and beauty of Sagada; the place, the culture and the people. With travel buddies Lancy, Elaine, Kat, Mage, Julie, Eileen, Jim, Piolo and Louie.
Part 1 :  En route to Sagada 
Part 2:  The Savory Pinikpikan
Part 3:  Surviving the Challenges of Sumaguing Cave
Part 4:  Chasing Bomod-Ok Falls
Part 5: Must visit places in Sagada 
Copyright secured by Digiprove © 2012 Joanna Jane Liwag
9 Comments to "En route to Sagada.."