Tweet
The Venetian Hotel icon
Since we only had a day to traipse around Macau, everyone agreed to wake up early to maximize our itinerary and cover as much ground as we can. By 8:30 AM, we were already hitting the busy streets of Mongkok. Thankfully, the weather also cooperated this time and we were blessed with a cold but generally dry morning.
We decided to grab a quick breakfast at Cafe de Coral (Hong Kong's version of fast food) before heading on our way. The line was   long when we arrived but since the efficiency of the staff can be compared to that of a robot factory, we only had to wait for about 5 minutes before we got our food. Cool!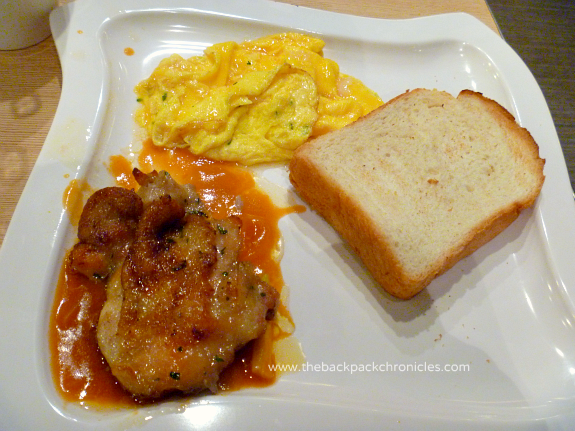 Scrambled egg with milk & Roasted Chicken with maple syrup (HK$24)
How to get to Macau from Hong Kong
After breakfast we immediately went on our way. We took the MTR from Mongkok to Sheung Wan Station and head to Exit D, where the HK-Macau Ferry Terminal is located.
Buying ferry tickets was quite easy. An agent who spotted us, asked if we were going to Macau and when I nodded, he practically shove the Turbo Jet tickets (HK$151 each) on our hands. We had to make a run for the immigration after that because the tickets we bought were for 9:30 AM and a quick look on my watch told us we only had 7 minutes left. LOL! Amazing race lang ang peg? Luckily, the immigration lines were not that long.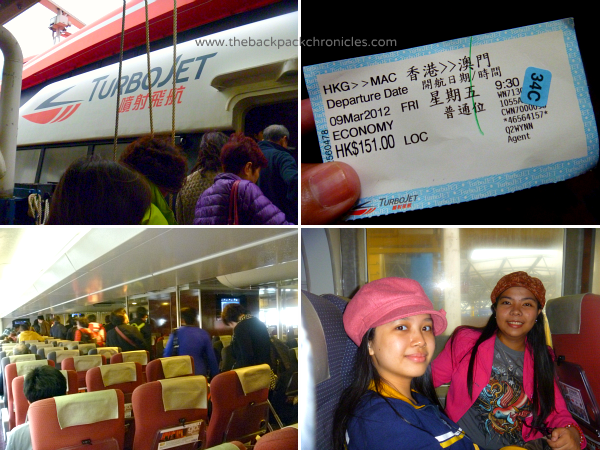 The one-hour ferry ride was pretty uneventful and before we know it, we were already at the Outer Harbor ferry Terminal. We had to complete the arrival and departure cards before we could get off the ferry since Macau is another country. That also meant that we acquired an additional passport stamp. :D
Immigration in Macau was slower compared to HK immigration and it took us more than 20 minutes before everyone was cleared. From here, it's just a matter of finding the parking area where Free Shuttles to different casinos and hotels in Macau is located. If you're on a tight budget like we were, it's a good idea to make the most out of these free rides.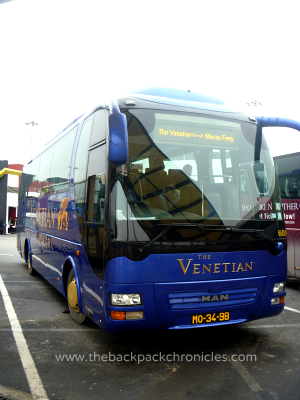 Left: The list of Free Shuttles offered by different Hotels and Casinos. Right: Very stunning blue and gold color combination of the Venetian Hotel shuttle.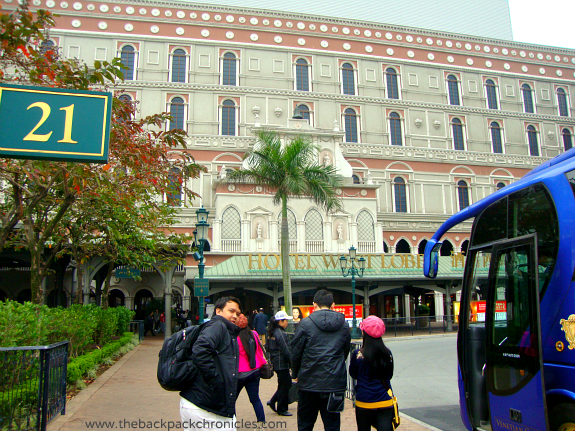 Walking towards the Venetian Hotel West Lobby
Trivia about the Venetian Hotel
The Venetian Hotel, for those who doesn't know, is the largest casino in the world and the sixth largest building by area. Its 40-story building was modeled after its twin resort, The Venetian in Las Vegas and valued at  an astonishing $2.4 billion. – Source: Wikipedia
Being a Pinay, it was also interesting to note that the resort employs the largest number of Filipino gondoliers in the world. It wasn't surprising since Filipinos are known for having great vocal talents – a foreigner friend even asked me once if Karaoke was our national sport – but it still made me happy to learn that Pinoy talents are given so much importance here.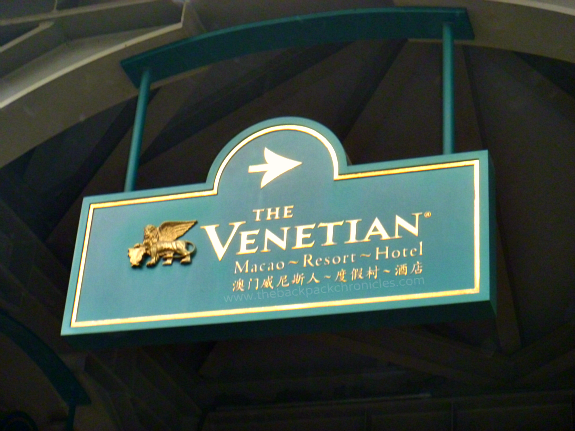 Inside The Venetian
A soft golden glow welcomed us as we made our way inside the grandiose western lobby. I must admit that even though I've been to a number of hotels already, still I've never seen an interior as impressive and fancy as that of the Venetian Hotel. From the beautifully painted ceilings, to elegantly tiled floors,  rich furniture and expensive chandeliers – everything simply exudes a rich, golden aura.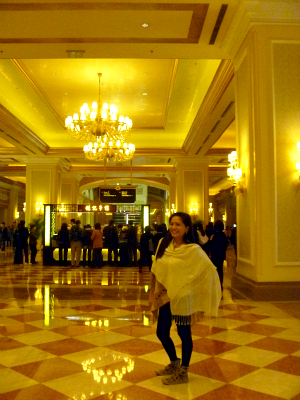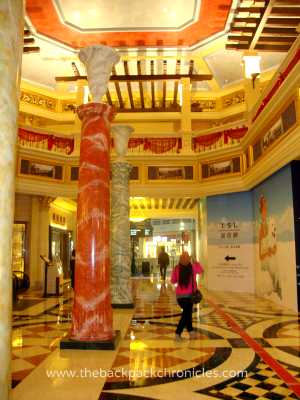 The lobby was so vast that it took  us more than 10 minutes just to reach the inner parts where the casinos where located. Since we don't have any business on those parts, we immediately proceeded on our way. A couple of turns and an escalator later and we finally beheld what we came here for: the stunning Grand Canal Shoppes.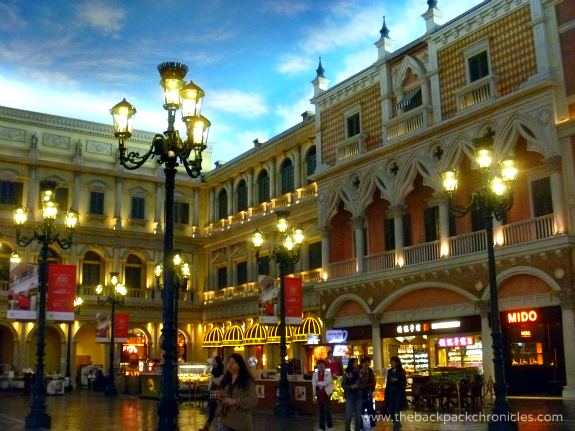 The Grand Canal Shoppes
The Grand Canal Shoppes section was the biggest Venice replica in the world. It features a wide array of shops from mid-level to high-end brands offering products ranging from clothes, gadgets, cosmetics, accessories and more. If you have lots of Patacas to burn for an expensive shopping spree, this is a perfect spot to score some goods. I also read somewhere that if you spend 5 minutes shopping from every single shop here, it would take you 29 hours just to finish them all.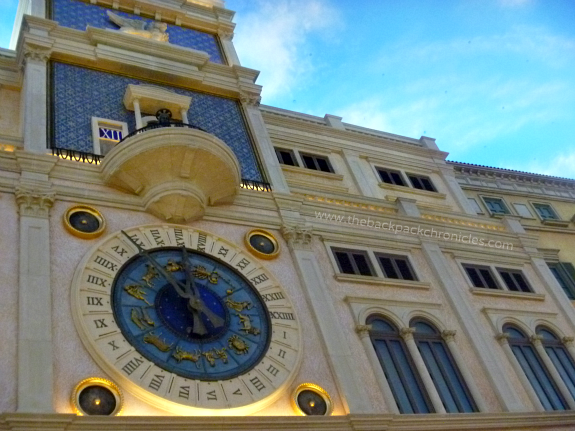 One of the things that fascinates me about the Grand Canal Shoppes is its deceptive ceiling. It was so elaborately painted that it looked so much like the real sky – think of Hogwarts! – on a blue and cloudy day. In fact, I had to stare at it for quite sometime before I could convince myself that it wasn't real. :D
Another splendid highlight is the network of canals that can be navigated by means of elegant gondolas. Tourists who wish to experience a romantic glide down the Canal can purchased tickets at Boutique Di Gondola (shop No. 2301) or Emporio Di Gondola (shop No. 2660) at MOP118/ride for adults or MOP88/ride for children. Singing gondoliers will entertain their guests with heart-warming renditions of arias that will surely leave you with goosebumps.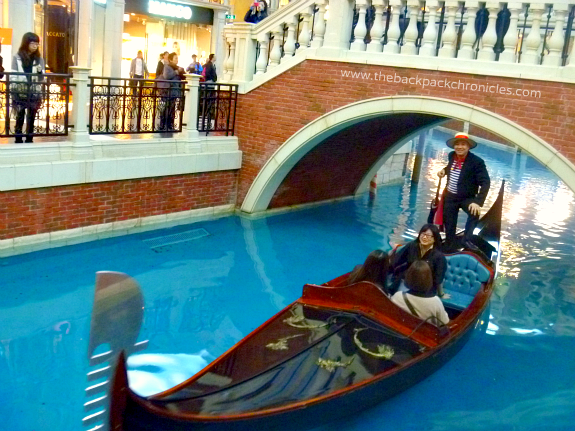 The Venetian Hotel Main Lobby
Luxury was the first word that popped to my mind as we found ourselves  walking towards the elegant main lobby. A rich golden glow bathe us in its warm light as we took in the interesting features of the area.
The Venetian Icon was the first thing that caught my eyes. It was a golden globe-like structure sitting at the middle of the hall with four golden woman perched on its arches and four lions guarding its base.  Since it is one of the most photographed icons at The Venetian, we were not surprised to see a number of tourist lurking around just to catch a few photos. Syempre magpapatalo ba kami? :)
The bonggacious Venetian Icon. LOL!
Stunning murals and paintings dominated the ceiling
Then there was the breathtaking ceilings. It took a lot of effort – mostly on my part –  to stop gawking at the dozen or more Roman-inspired paintings embellished on these ceilings. The details were so intricately complicated that I felt like I was standing inside the Sistine Chapel or some other famous museum for that matter. I couldn't help but to stare, stare and stare some more. In the end, I had a slight case of neck cramp for tilting my neck too long. LOL!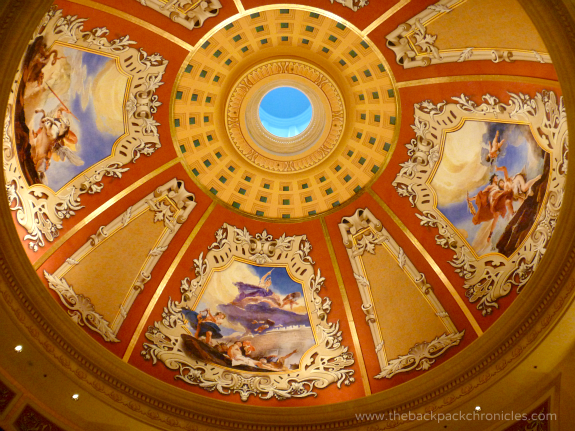 Our jaunt at the world's largest casino may be short but we certainly had so much fun. No, we didn't burn our HK$ on any of the slot  machines – we didn't have spare money to burn anyway –   but getting lost inside the Grand Canal Shoppes was a dream come true. After all, I finally found what we came to Macau for…
I finally found the bridge where Jun Pyo and Jan Di broke up in the hit Korean series, Boys Over Flowers. :D
---
6 Days Hong Kong and Macau Adventure. March 7-12, 2012. A series of articles featuring my first overseas trip in Hong Kong and Macau, with Cess, Zig, Ate Bhing and Kuya Jorge.
+ Day 0 – HONG KONG | Touchdown to Hong Kong
+ Day 1 – HONG KONG | The noodles, the tram and the foggy Victoria Peak
+ Day 1 – HONG KONG | Madam Tussaud's Wax Museum
+ Day 2 – MACAU | The Venetian Hotel
+ Day 2 – MACAU | Of dragons, treasures and City of Dreams
+ Day 2 – MACAU | The Grand Lisboa
+ Day 2 – MACAU | The historic Largo de Senado and the iconic St. Paul Ruins
+ Day 2 – MACAU | The Fortune Diamond Show at The Galaxy Hotel
+ Day 2 – MACAU | The pimple encounter and the Wishing Crystals
Copyright secured by Digiprove © 2012 Joanna Jane Liwag
11 Comments to "MACAU | The Venetian Hotel"